You are here
Date : 03/03/2015
UK brands leave over half of customer questions unanswered, according to new study
Latest Eptica research sees Twitter overtake email for fast, accurate customer service
The full Eptica Multichannel Customer Experience Study, which includes a detailed sector by sector breakdown of performance and full analysis, can be downloaded from here.
Reading, 3 March 2015: UK brands are failing to improve the customer service they offer, answering under half (48%) of questions asked via the email, Twitter and web channels, according to a new study.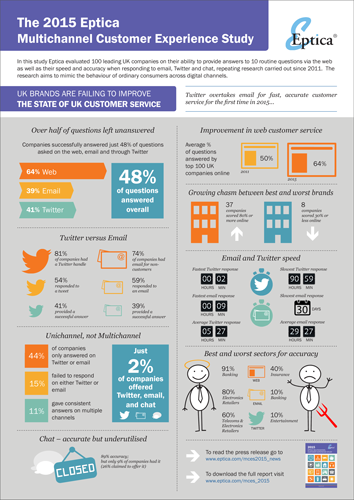 Twitter is coming of age as a customer service channel with more questions answered accurately through social media than email for the first time, although companies failed to successfully respond to 59% of tweets and 61% of emails.
The Eptica Multichannel Customer Experience Study, released today, evaluated 100 leading UK companies on their ability to provide answers to 10 routine questions via the web as well as their speed and accuracy when responding to email, Twitter and chat, repeating research carried out since 2011. The research, from multichannel customer interaction management software provider Eptica, aims to mimic the behaviour of ordinary consumers across digital channels.
| Channel | % questions successfully answered |
| --- | --- |
| Company websites | 64% |
| Twitter | 41% |
| Email | 39% |
| Average across 3 channels | 48% |
On a positive note, the study revealed that the speed of answering emails and tweets has improved dramatically. In 2014 it took an average of 61 hours and 39 minutes to get a response on email – this year this had been reduced by more than half, to 29 hours 27 minutes. However, this masked major discrepancies – one retailer successfully answered an emailed question in 9 minutes, yet another took over 30 days.
Twitter remained the fastest channel for customer service, with average response times dropping from 8 hours 37 minutes to 5 hours 27 minutes. Replies were received in just two minutes from two food and drink retailers. Unfortunately faster replies came at a price, with 11% of emails and tweets simply not answering the question, requiring consumers to send follow up communications or to switch to more expensive channels such as the telephone.
For consumers looking to find out basic information, the web remains the best channel, with an average of 64% of questions answered online, a marginal improvement of 1% from 2014. At the same time a gulf is developing between best and worst – 37 companies scored above 80% online, yet 8 could only answer 30% or fewer questions.
"Customers have never been more demanding, and many brands are responding by investing heavily in the customer experience," said Julian Sammells, Sales Director UK & Ireland, Eptica. "At Eptica we've been researching the state of the UK customer experience annually since 2011, and this year we saw little overall improvement from 2014, with 52% of questions going unanswered and the performance of many brands worsening either overall or on specific channels. The chasm between the leaders and laggards is growing. This should act as a wakeup call to underperforming brands – they need to improve the customer experience if they want to be successful moving forward."
On the web, banking was the most improved sector, answering an average of 91% of questions, moving it ahead of fashion retail (78%). Much of banking's gains came from the use of web self-service systems which 90% had deployed. In contrast, just 4 insurers had web self-service, and the sector fell to the bottom of the rankings, answering an average of 40% of questions online. Five out of ten sectors performed worse year-on-year, with just 36 companies improving online. There was a wide range of scores within sectors – one utility answered 100% of questions, another managed only a single, accurate response.
Consistency was also lacking, with companies that were strong on particular sectors weak on others. For example, banking was the top sector for web customer service, but languished joint bottom for email, with a single accurate response. Telecoms companies answered 60% of tweets, but only 20% of emails. 44% of companies only answered on Twitter or email, rather than both, while 15% failed to respond on either channel.
"Companies are facing an enormous growth in the number of queries they receive from consumers, across an ever-increasing range of channels," said Olivier Njamfa, CEO and co-founder, Eptica. "Many are struggling to cope, with some essentially switching off entire channels and focusing their efforts on one or two. Rather than multichannel, we're seeing a growth in unichannel as companies cut back. This is short-sighted – customers want to be able to use their channel of choice, not be forced into particular methods of communication. Centralising customer service and sharing information between channels is essential for brands if they want to meet consumer needs and deliver fast, accurate service that underpins business growth."
The final channel surveyed was web chat. While over a quarter (26%) of companies claimed to offer chat, just 9% had it working when tested, a marginal improvement on 2014's 7%. This is despite the benefits that chat offers to both consumers and businesses. It continued to provide the greatest accuracy (89%) and fastest response, with an average conversation time of 7 minutes 13 seconds, although this was nearly double the average conversation time of 2014.
Additional key findings included:
Only two companies were able to answer questions on the web, email, Twitter and chat channels – down from three in 2014
11% of brands provided a consistent answer across multiple channels such as email, chat and Twitter
56% of companies had web self-service systems, up from 53% in 2014
Six sectors responded slower to email than in 2014, with entertainment retailers taking an additional 10 hours to answer on average in 2015
74% of companies had email contact details available, up from 71% in 2014
According to Forrester, 41% of consumers expect an email response within 6 hours – a target that just 16% of companies met
94% of companies met the targets they gave in terms of email speed of response, though many set themselves extremely generous targets such as up to five days.
One fifth (20%) of brands responded on email, but then didn't answer the question
80% of brands had a Twitter handle, with 72% advertising a link to Facebook
46% of companies failed to respond to a tweet at all and six sectors were slower than in 2014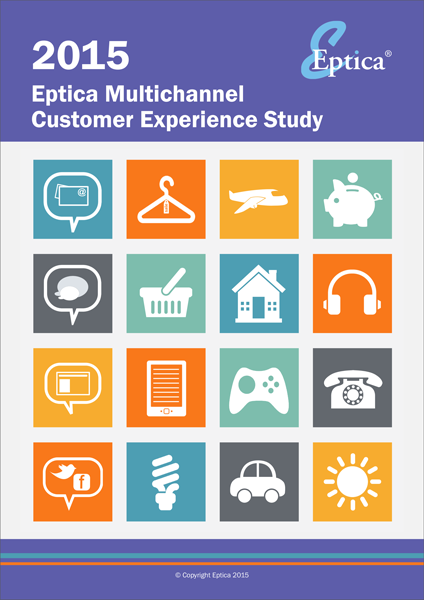 Eptica Multichannel Customer Experience Study methodology
In total 100 company websites across the insurance, travel, entertainment retail, food retail, electronics retail, consumer electronics manufacturers, utilities, fashion retail, telecoms and banking sectors were evaluated in Q1 2015:
For their ability to answer ten basic, sector-specific questions via their website, such as "What is your returns policy if I change my mind after purchase?" (retailers) and "How do I cancel my contract?" (telecoms suppliers)
On the speed and accuracy of their response via the email, Twitter and web chat channels
On the consistency of responses across email, Twitter and web chat
The full Eptica Multichannel Customer Experience Study, which includes a detailed sector by sector breakdown of performance and full analysis, can be downloaded from here.
An infographic illustrating the results is available at here.
- Ends -