4 reasons email is on the rise in 2019
Published on:
January 23, 2019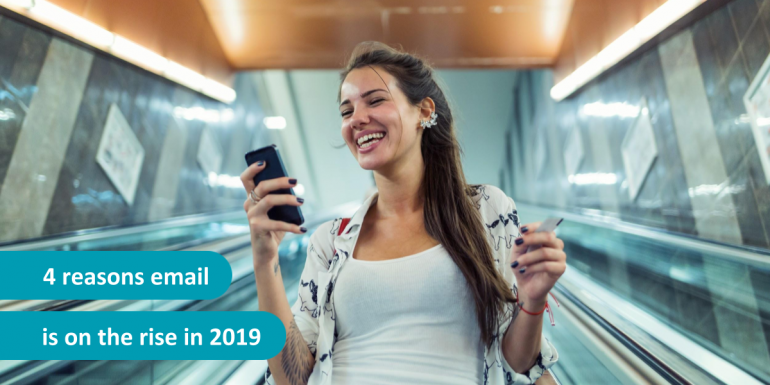 In an era dominated by social media and smartphones, it is easy to write email off as yesterday's channel when it comes to customer service. However, as consumer and industry research shows, this is far from the truth. Rather than declining, email usage is actually increasing with new channels simply supplementing, rather than replacing it:
A new study from Forrester found that email has a 96% penetration rate and that more and more people are now accessing the channel via their smartphones
In Eptica research consumers said that they used email for over a quarter (27%) of their contacts with brands
Customer service professionals surveyed for Contact Babel's UK Contact Centre Decision-Maker's Guide 2018-19 said that email was their second busiest channel, generating 19.5% of incoming interactions, with 81% saying they expected volumes to increase or remain constant over the next 12 months
Given both its importance and how it is evolving, there are four areas that CX professionals should focus their email strategy on going forward:
1. Email is used by all, especially the young
According to Forrester more consumers aged 12-17 use email than Facebook or Snapchat. 82% of this group are on email, up from 69% in 2014. This means that old misconceptions of it solely being a channel for more mature groups are simply no longer true. However, what has changed is that all audiences want faster, more detailed responses to their queries - 72% of consumers interviewed by Eptica said their expectations were continually rising and that failing to deliver made them less loyal.
Companies, therefore, need to ensure that they can deliver what customers want. This means better understanding email conversations using AI and text analytics and then providing comprehensive, rapid responses through intelligent knowledge bases that ensure consistency throughout conversations.
2. Smartphones equal more emails
Smartphones give consumers the ability to send emails immediately or when it is convenient rather than waiting to return to their computer. As they become more used to typing longer messages on smartphones, and predictive text interfaces improve, this is leading to growing email volumes on smart devices. Forrester sees smartphones as driving increases in email usage and highlights room for further growth given a current penetration rate of only 61%.
Smartphones also provide new ways to add context to messages, for example, it is much simpler to take and email a photo compared to on a PC. Brands, therefore, need to both be ready for the greater email volumes that smartphones bring, and use the extra functionality, such as high-resolution cameras, that they contain.
3. Consumers like email
There are multiple reasons that consumers value email. It is simple and straightforward to use, with in-built guarantees that messages will be delivered to their destination. As it is not real-time, they can pause when replying to a conversation, thinking through their answers before responding if their query isn't time-critical. Unlike the telephone, the channel comes with a built-in audit trail, meaning there is a written record of the entire conversation that they can refer to. This is particularly important in regulated industries or if the customer is making a complaint. It also provides invaluable data that can be used with Voice of the Customer programs.
Given that consumers want to use email, brands need to make it as easy as possible for them to do so, for example, clearly signposting email options on their website and ensuring that they have the right level of resources in place to deliver fast, accurate answers. Otherwise, unhappy consumers are likely to complain on social media, move elsewhere – or switch to more expensive channels such as the telephone, adding to overall costs.
4. Brands need to cope with enormous volumes
The average consumer interacts with brands 2.5 times per month – extrapolated across the UK that is 130.6 million monthly contacts. This means that even medium-sized organisations are receiving hundreds of emails every day. At an average cost of £3.37 to deal with every email, that totals £440 million across the industry per month in the UK alone.
The sheer number of messages that brands receive is driving many to limit access to the channel, but this is not an answer, given consumers clearly want to use email to communicate. Instead, companies should look at how they make their operations more efficient, such as by automating the analysis of incoming emails to forward them to the best available agent and then providing template-based responses to help agents give faster, more comprehensive answers. These all help increase productivity and reduce costs – after all, if emails are not answered the first time, consumers are likely to send follow-up messages, adding to volumes and workload.
As Forrester's research shows, email is thriving in today's customer experience-led world. Brands, therefore, need to ensure that it remains a key part of their strategy moving forward if they want to increase customer satisfaction, decrease churn and ensure efficiency in 2019 and beyond.
Categories:
Product, Trends and Markets
You might also be interested in these posts: