5 key findings on the state of UK retail customer experience
Published on:
March 31, 2017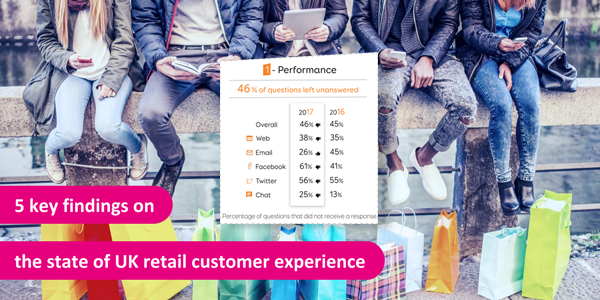 Digital transformation has radically disrupted the retail sector. Barriers to entry have dropped, competition has increased, and customer expectations continue to rise. The experience that retailers offer across digital channels is now crucial to winning and retaining customers. Little wonder that 69% of retail CEOs surveyed by PwC said that they were investing in digital customer service technology, helping them deliver the personalised, seamless experience that consumers demand.
How are UK retailers coping with this changing competitive landscape? To find out Eptica evaluated the experience provided by 40 leading UK retailers, mirroring consumer behaviour by asking routine questions via the web, email, Twitter, Facebook and chat. This builds on studies carried out since 2011, and to add further depth the 2017 Eptica Retail Conversation Study also surveyed consumers – how satisfied are they with their retail experience?
The topline results highlight a gap between reality and consumer expectations. Response rates and accuracy have not improved year on year across most channels with retailers failing to answer nearly half (46%) of routine questions asked through email, the web and social media, a 1% drop since 2016. Yet 69% of consumers say their expectations are continually rising, meaning they want a better experience than previously.
No wonder that on average less than 50% of consumers surveyed by Eptica said they were happy with the experience received through digital channels. Improving service would have a concrete impact on profits - 93% of consumers say they are more likely to buy from a retailer if they have a positive experience.
Analyzing the results shows 5 key findings:
1. Retail performance is static
The digital customer experience provided by UK retailers seems to have stood still over the last 12 months. The number of questions answered accurately on the web, Twitter and Facebook all declined, although email improved dramatically, by 19% to 74%. This means that you are now more likely to receive a successful answer to a query on email than on social media. Consumers are also left unhappy. Satisfaction levels vary greatly between digital channels, from 32% on Twitter to 59%, but all are well behind the face to face channel, where 78% of consumers are either happy or very happy with the experience.
2. Retailers struggle with speed and accuracy
Whether they have a simple query or a more complex request, consumers want a fast answer, delivered as close to real-time as possible.
On the plus side, brands seem to recognise this, with response times dropping dramatically year on year. On average, replies on email, Twitter and Facebook were all delivered in around half the time of 2016. However, this was not matched with a corresponding improvement in accuracy – 56% of tweets and 61% of Facebook messages were not answered successfully. Given that 91% of consumers expect a fast AND accurate response, retailers are clearly failing to deliver the level of service that customers demand.
3. Lack of consistent response across every channel
Whichever channel they use to make contact customers want the same high quality experience. However, the Study found enormous inconsistencies, with 58% of retailers providing different answers to the same question across multiple channels. Just three companies responded on email, Twitter, Facebook and chat – and only one of these was consistent across all four channels.
Consumers recognise this inconsistency - 44% say service levels differ between channels and point the finger clearly at a lack of shared information, with 41% saying that they don't believe staff have the knowledge to help them.
4. Chat is finally coming of age
While the overall picture was static, there were positive improvements in the chat channel. Traditionally underused, it now seems to be being deployed more widely. 25% of retailers had it working when evaluated, up from 13% in 2016. 85% of chat sessions successfully answered the consumer's question, against just 60% in 2016. This demonstrates a renewed focus on chat, with retailers dedicating greater resources to the channel.
5. Retailers are settling for average
The volume of interactions that retailers have to respond to is growing exponentially. Perhaps because of this, many companies seem to be settling for providing average service. In 2016 4 companies scored 100% on the web – yet this year none did. Performance seems to be clustering around the middle – for example 50% of retailers in 2017 answered between 20-60% of questions asked online. In 2016 the figure was just 32%.
However, in hyper-competitive times average is not enough. 40% of consumers already say retailers don't keep their promises when it comes to response times – failure to provide the right experience will drive them to competitors who provide a better service.
The need to enable meaningful conversations
The 2017 Eptica Retail Conversation Study demonstrates that there is gap developing between what customers want and what many retailers offer. For too many retailers average service seems to be the norm.
This is not a long-term, sustainable strategy. Consumers want to engage with brands, but will only be loyal to those that deliver on their promises, time after time. They want to have meaningful conversations that answer their queries and add value to the relationship. Providing this isn't easy, particularly as expectations grow - therefore retailers need to focus on technology, such as artificial intelligence and natural language processing, to underpin their customer experience. This will enable them to better understand what customers are asking, automatically provide relevant, consistent answers from a centralised knowledge base and to empower their agents with the tools and information they need to do their jobs more productively.
To find out more and to read the full findings, download the full 2017 Eptica Retail Conversation Study here or take a look at our infographic containing the results.
Categories:
Trends & Markets, News
You might also be interested in these posts: