The 5 rules of Retail Christmas Customer Experience
Published on:
November 22, 2017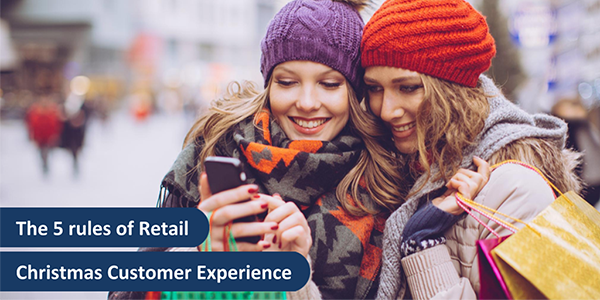 As we approach Christmas, the festive shopping season is moving into top gear. Big retail adverts are hitting the screen, with UK companies spending an estimated £6 billion to reach shoppers as they fight to differentiate themselves from competitors. It is likely that consumers will be more careful in their spending, with rising prices and inflation leading to overall retail sales falling year on year between September 2016 and 2017. Predictions are that Britons will spend just 1.3% more than in 2016 – with sales increasingly concentrated through online or bigger retailers.
At the same time as they are looking for bargains, consumers also want to make their shopping experience as simple, hassle-free and quick as possible. They want a good overall experience that values their time and enables them to be confident that the gifts they buy online will arrive safely, ready for the big day.
So how can retail businesses ensure that they have a Happy Christmas and maximize sales and revenues? Price is obviously one option, but with multiple retailers selling the same or similar products this squeezes margins and profitability. This is why customer experience is increasingly the differentiator for brands – and here are five ways you can ensure your CX delivers this Christmas:
1. Make the journey seamless
Consumers want to use multiple channels to research and buy products, from online to physical stores. According to research carried out by Eptica, 77% of consumers want to be able to switch channels during a conversation – but only 50% say it is easy to do. So, make sure that changing channel is simple and straightforward and that the information you offer on every channel is consistent, accurate and up to date. This isn't always the case – our research found that 58% of retailers provided different answers to the same question across multiple channels.
2. Empower your staff
Christmas is a time when retailers bring in large numbers of additional staff to meet increased demand. Whether they are in the contact center or in-store, they need to be trained quickly so that they consistently deliver the same high levels of service as permanent staff. Get them up to speed quickly and empower them with information, such as through access to a centralized knowledge base that provides accurate responses to queries, consistently. Also consider using artificial intelligence to automatically analyze incoming emails and social media messages and give them template-based answers that they can personalize. This will allow them to focus on building empathy with customers, thereby improving the experience.
3. Learn from rivals
Whatever retail sector you are in, consumers compare you to the best performers. Therefore, benchmark yourself against your rivals – what practices can you adapt and use within your business? Test your systems through mystery shopping as well – how long does it take to get an answer to your query, and will it satisfy increasingly impatient shoppers? 40% of consumers polled by Eptica say retailers don't keep their promises when it comes to response times – make sure you are not one of them.
4. Listen to customers
Given the sheer volume of queries retailers receive it is easy to focus solely on answering queries as quickly and accurately as possible. But the questions consumers ask, across every channel, provide invaluable feedback. Analyze them and see what they are looking for and then look at how you can change your operations to improve the experience you offer. It could be something as simple as adding new information to your website – or more complex, such as offering new products based on customer feedback.

5. Provide end-to-end service
Particularly when it comes to ecommerce, the retail supply chain involves multiple independent companies, such as logistics businesses. Often the biggest problems occur around deliveries and, while issues are not technically your fault, your customers will hold you responsible. Therefore, make sure that you are able to integrate with delivery systems to access the right information and solve any issues, wherever they occur in the supply chain.
Christmas is coming fast, and the combination of increased competition and potentially flat or reduced spending means that it could be make or break for many retailers. Ensure that you put the customer experience first if you want to have a Happy Christmas – and to survive into the New Year.
Categories:
Trends and markets;Best Practice
You might also be interested in these posts: