How autonomous customers are driving customer experience
Published on:
May 25, 2017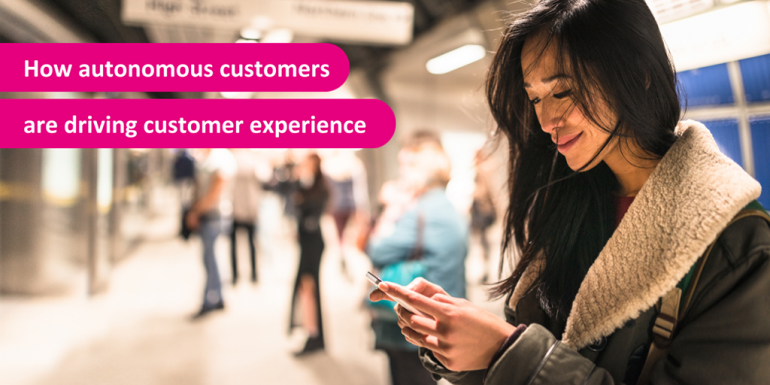 The relationship between customers and brands has fundamentally changed. Consumer expectations are continually rising, and much more of the customer journey is now self-directed, across multiple different channels. When they do make contact, these 'autonomous customers', as BT has described them in a global research study, want fast, accurate service that minimizes the effort they need to make.
Autonomous customers share four key traits:
They are digital natives, using a wide variety of channels. 75% say they constantly research products online for example.
They have high expectations of the service they receive – and always want brands to be giving them more.
They will deal with companies that make it easy for them to buy from – yet 62% said that the experience of dealing with brands was exhausting, and just 13% got their query resolved first time.
They are not automatically loyal, and listen more to friends, family and contacts on social media instead of brands when it comes to making choices.
According to the study the majority of consumers globally say they buy more from organizations that make it easier for them – 82% in the USA (and even higher in many other countries). But they are very demanding: while most are perfectly happy to 'self-serve' through websites and mobile apps, the moment they decide to seek third party support nearly 79% expect to receive a response to a social media comment in 15 minutes or less. And 55% say they put a lot of effort into safeguarding their consumer rights.
The percentage of autonomous customers is only going to grow, as Millennials are joined by Generation Z, who have even higher expectations. At the same time the spread of mobile devices and high speed internet access, mean that all consumers are becoming equally demanding. Brands therefore need to increase their efforts on engaging with autonomous consumers, focusing on five key areas:
1. Listen and react on social media
Social media networks are the primary channel for autonomous customers, who use the likes of Twitter and Facebook to research purchases, gain recommendations and interact with friends. Globally, 25% say they've contacted brands through social media. And their expectations are high – 70% expect a response in 15 minutes, and 35% say they'd ask friends to share their complaints if they didn't receive the service they want. Companies should therefore ensure that they have a clear plan for listening and responding to social media messages, and have the right resources in place to meet consumer expectations if they want to avoid disappointing and annoying customers.
2. Embrace self-service
Autonomous customers want to be in control, and that means providing them with the information they need online, such as through company websites and social media pages. It has to be clear and easily accessible, such as via AI-powered web self-service solutions that understand the language and context of their question, and make it easy to deliver the right answers, without forcing consumers to search manually.
However, self-service alone is not enough. Consumers want to be able to continue their conversation with the brand through other channels, whether it is the phone, email or chat. 63% want to be able to switch from social media to a phone call, and 80% say advisors should know all of their details and previous experience when they escalate conversations.
3. Investigate video chat
We live in an era where video is becoming more and more normal – from accessing YouTube to video calling through services such Skype. Autonomous customers expect the same access to video when they contact a brand. Some 63% of consumers say they want to use video-chat to communicate with organisations and 50% of those in the USA and UK would like to use it when discussing queries and services. Over half in both countries would like to use video-chat for having product demonstrations from agents. Successfully delivering video chat does require brands to rethink how they operate. It means training agents differently and ensuring that they are smart and presentable when dealing with customers – however, if done correctly it will leave a lasting positive impression.
4. Take a holistic view of the customer journey
Customers want the freedom to use whatever channels they like – and to have the ability to switch between them quickly and easily. They want a range of channels to meet their needs and in the US and UK 63% say they change how they contact organisations depending on the situation. Four in five say agents should be instantly familiar with their details across all channels.. This omnichannel approach requires brands to take an integrated view of the customer journey, sharing information between channels so that they can have an informed conversation with consumers, based on understanding the context of their query and personalizing responses to meet their individual needs.
5. Make the whole process easy
Above all, customers don't want to have to expend unnecessary effort when dealing with brands. This has a direct impact on what they are willing to spend – the number of people that rated convenience above price when choosing where to buy grew by 30% over the last year, according to BT's study. At a time when loyalty is no longer automatic, making it easy will improve your chances of winning and retaining customers and therefore boosting your bottom line.
Autonomous customers are increasingly visible and vocal. Therefore brands need to provide them with the experience they require, if they don't want to lose them to more agile, customer centric rivals.
Categories:
Trends and markets;Best Practice
You might also be interested in these posts: