5 top trends driving customer service
Published on:
November 28, 2016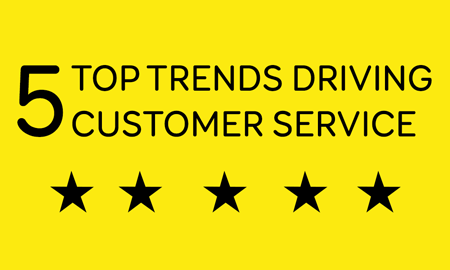 When it comes to service, customers today demand the highest standards from every organization that they deal with, in every industry and across every channel. Ensuring your company meets their expectations can appear daunting, particularly in highly competitive markets. A good way to plan your strategy is to look at the key trends driving customer service – here are five to focus on:
1 The need for speed
Customers want fast responses to their queries, and are unafraid to take their business elsewhere if they don't get what they want. 60% of consumers said they had higher expectations today, compared to a year ago, and this trend is accelerating, not slowing down.
Obviously responding quickly is no use if it doesn't answer the question or requires consumers to make additional effort, such as re-contacting an organization for clarification. For example, an Ovum study reported that it took consumers six interactions to get an answer to their question - hardly ideal.
Some companies are able to respond quickly and accurately – in Eptica research one brand answered in 3 minutes. Yet another took over 4 days. The key issue here is that consumers won't wait – they'll simply go with the company that responded first. As customer experience commentator Shep Hyken said, "If I wanted my question answered in seven hours, I would have waited seven hours to ask the question!"
2 The need for knowledge
The second challenge is that not only do customers want faster answers to more questions, but that their questions can also be more complicated. They can be difficult to understand, particularly on digital channels where there is no context to the query or it is hard to gauge the tone of the conversation. No wonder that 78% of consumers asked by Eptica ranked replies that failed to answer their query as one of their top frustrations when contacting companies.
This means organizations need a greater depth of knowledge to respond to queries successfully, and often this information is scattered across different systems within the organization. Research by Contact Babel found that the over a third of agents have to use four or more systems to answer a call.
Consequently, successfully managing and sharing knowledge is crucial. Knowledge should be the glue that joins channels together, helping drive speed, consistency and efficiency. Start by centralizing information in a single knowledge base, and then making it available across every channel to deliver fast, consistent and better-informed service.
3 The need to be digital
Everyone is aware of the impact of digital, but it is important to stress that it opens up opportunities as well as challenges.
Admittedly, the sheer scale of the challenge can be daunting – over 4.5 million tweets are sent to B2C brands every month, and according to Edison Research, just 32% of those that complain on social media are happy with the response they get. That's a lot of dissatisfied consumers.
On the positive side, digital provides the chance to respond personally and engage with your customers, strengthening relationships and increasing loyalty. The barriers to entering new markets are lowered and it provides the chance to change how you operate internally, moving away from silos to a more flexible, fluid, organization that is more efficient for your company and better for the customer.
Digital also needs to be balanced with the personal service that consumers demand – particularly with more complex queries. So technology, training, and skills such as empathy all have to be applied equally to deliver the service that consumers demand.
4 The need for transparency
Digital channels make it much easier for consumers to see what is actually happening inside organizations – and to share their experiences with the world. Any problems or issues are therefore soon out in the public domain, meaning that crises can arise in minutes, and traditional means of dealing with them may no longer work.
Brands therefore need to be transparent, able to react swiftly, and be quick to apologize for mistakes where necessary. In today's complex world, things will go wrong– it is how you deal with them that is crucial. The key to success is to build a strong reputation with customers first – then they are more likely to forgive you, provided you sort out the problem satisfactorily.
5 The need for efficiency
Organizations are receiving a growing volume of emails, tweets, Facebook messages and chat requests, while budgets are essentially flat. Illustrating this, a poll in Call Centre Helper poll found that over three quarters of respondents are having to do more with the same or lower budgets in their contact center.
Achieving this level of efficiency can be difficult – it requires companies to take a more holistic view that brings together all their channels and breaks down silos, sharing resources and operating in a more agile way.
Meeting customer expectations can appear to be a tough, thankless task – but getting it right has a huge impact on revenues. Research carried out by Harley Manning of Forrester found that in every one of five US industries the customer service leader saw greater increases in revenues than the laggard. Focusing on the key trends and creating a flexible, knowledge-driven organization where customer service is everyone's job is therefore key to sustained business success.
Categories:
Trends & Markets
You might also be interested in these posts: