Balancing the human and the digital in customer experience
Published on:
October 11, 2017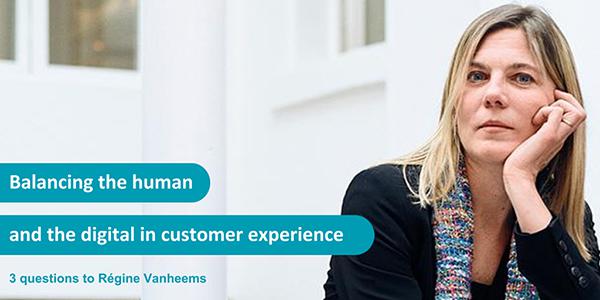 3 questions to

Régine Vanheems, co-founder of The Connected Commerce Observatory and Professor, University of Lyon 3 Sorbonne - ESCP Europe.

A noted expert on customer experience, Régine Vanheems has worked extensively with Eptica, providing its customers with analysis into the latest trends around consumer expectations and behaviour, particularly in the area of digital CX. She recently contributed the foreword to Eptica's new whitepaper, Putting the human at the heart of digital customer experience.

We asked her about the challenges that brands face when it comes to CX, and how technology can help overcome them.

Régine, what is changing for brands when it comes to customer experience?

While there has been a lot of talk about digital, what is actually happening is that we're seeing an integration of the physical and digital worlds. Consumers move between them seamlessly, depending on their needs. This means brands need to take an integrated approach to CX - you cannot be just 'digital' or 'physical', you have to bring the two together.

This leads to three major challenges for brands:
They need to understand the psychology of consumers in more detail as their thinking and actions are affected by the touchpoints they've visited on the journey so far. For example, a consumer that has researched a product online and then visits a store to buy it is going to be much more focused on the purchase, and will have different, more detailed questions compared to someone that is browsing in the shop for the first time.

Brands must understand exactly what consumers want, and meet their expectations. That means listening to them, having a genuine conversation and ensuring that you are helpful and human when talking to customers.

The customer journey is now much more complex, so brands need to map multiple different paths to purchase. The experience people want from the journey will vary depending on their particular need. For some journeys it is all about speed and simplicity, while others will be more involved, with a richer experience. For example, reordering supplies, such as printer ink, needs to be as seamless and fast as possible, whereas buying more involved items such as a car or clothes needs to be made a more pleasurable, less rushed experience.
Meeting these consumer needs seems daunting. What can brands do to engage with their customers and their expectations?
It may sound daunting, but it is vital to understand consumers and meet their needs if you want to win their loyalty, and thus preserve and grow your revenues. I believe there are three areas to focus on:
1. Strike a balance between humans and technology
Consumers want a mix of automated conversations with technology (such as self-service systems and chatbots) and the empathy and personalisation a human can provide. What they want at specific parts of the journey will vary, and they expect brands to be able to offer the right experience at the right time. They will also want to be able to move from automated answers to talk to humans - without having to repeat themselves.
2. Use AI and NLP to increase understanding
We've seen a lots of talk about chatbots over the last two years. However for these to be effective they need to be equipped with the ability to understand exactly what customers are asking, which means ensuring they are built on artificial intelligence and Natural Language Processing (NLP) technology, and have access to up to date knowledge that will help them respond consistently and accurately.
Rather than helping, implementing chatbots that fail to understand what consumers want will actually annoy them, as they will be forced to escalate to agents for even basic queries. At the same time using AI can augment the human skills that agents have, empowering them to do their jobs better, such as by helping them understand the context of a query, routing it to the right person and providing automatic access to relevant answers.
3. Happy agents = happy customers
Eptica's own research found that 77% of consumers want to talk to humans when they have more complex queries. So, with more basic conversations being automated the role of human agents will become more, not less important. Consumers want the human touch for certain interactions, so agents require deeper understanding and higher level skills. AI can assist, helping augment agent skills, allowing them to focus on building empathy with the consumer, and thus improving the experience.
Where should brands start?
There are practical steps that businesses can focus on that will drive real results in customer experience. That's one of the reasons for Eptica launching its whitepaper - it focuses on four key areas:
Augment your agents - use AI to lessen the load on the contact center, and to support agents when speaking to customers.

Focus on emotion - give agents the tools to help them understand consumers on an emotional level to build an engaging experience

Ensure teams have the right skills - look to employ agents with more creative skills, capable of operating autonomously to solve customer problems

Make the conversation seamless - we're in a mixed physical and digital world, so ensure consumers can move between talking to humans and machines in a simple way, and that you use the best skills of each approach to meet their needs.
Click here to download the full whitepaper, Putting the human at the heart of digital customer experience and see how AI and NLP can benefit your brand.
Categories:
News, AI, Trends & Markets
You might also be interested in these posts: