Boosting fundraising through a joined-up experience - how Charities Aid Foundation is benefiting from AI
Published on:
May 22, 2018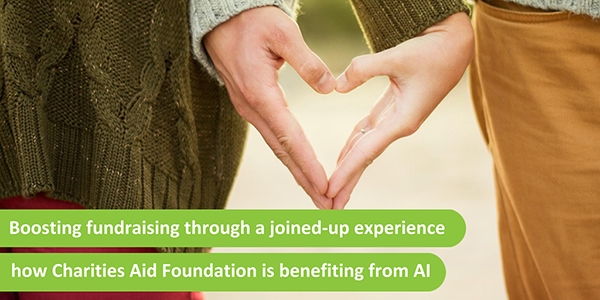 3 questions to Glen Brooks, Project Manager, Charities Aid Foundation.
Established over 90 years ago, Charities Aid Foundation (CAF) helps transform lives and communities by working with charities of all sizes, assisting their fundraising and making it easy for individuals and corporate organisations to donate. It is adopting Eptica's artificial intelligence (AI)-powered digital customer experience platform for all its incoming emails in order to improve the end-to-end customer experience it provides to more than 73,000 charities, 250,000 individual donors and 7,300 corporate donors.
We asked Glen Brooks, Project Manager, Charities Aid Foundation to tell us why improving the customer experience using Eptica has a direct impact on both efficiency and fundraising for charities.
What are CAF's objectives?
Our mission is to motivate society to give ever more effectively, helping to transform lives and communities around the world.
Essentially, we help people and businesses support the causes they care about, and for charities, we provide simple and straightforward day-to-day banking and fundraising services. The aim is to free them up to concentrate on the real work of making a difference. We help charities of all sizes, operating in over 100 countries and since 2000, have paid out over £4.8 billion to charities.
What was the business challenge that you were looking to overcome?
When it came to customer service we had two key drivers. Firstly, we wanted to improve the end-to-end customer experience, and make the organisation more outward looking and customer centric. This meant breaking down silos between departments and ensuring we delivered a fast, joined-up and knowledge-based response to all the thousands of emails we receive every month from individuals, companies and charities.
Secondly, we wanted to increase efficiency and productivity and ensure that we continue to keep any administration costs as low as possible. This means we can pass on even more of the donations we receive to charities so that they can make the maximum possible difference.
What benefits do you expect to receive by adopting Eptica?
With Eptica all incoming emails are now automatically analysed through Natural Language Processing (NLP) technology. They are then sent to an agent, along with the most relevant template-based answer from CAF's growing knowledge base, enabling them to send fast and accurate answers.
We now have a far better view of all of email conversations, what people are asking and how we are handling them. We can now measure response times against SLAs and prioritise key emails by relevance and other contextual filters, helping ensure that the most time-sensitive interactions are answered quickly and efficiently. We can also analyse all of our emails to pinpoint wider trends, and use this information to improve content on our website or enhance our processes to deliver a better experience to customers. It benefits agents too – making their jobs easier, helping them become multiskilled, and identifying any potential training needs that they might have.
To find out more on how CAF is successfully using Eptica read our case study here.
Categories:
News, AI, Trends & Markets, Artificial Intelligence
You might also be interested in these posts: