The breakdown in insurance customer experience – and what it means for trust
Published on:
September 25, 2019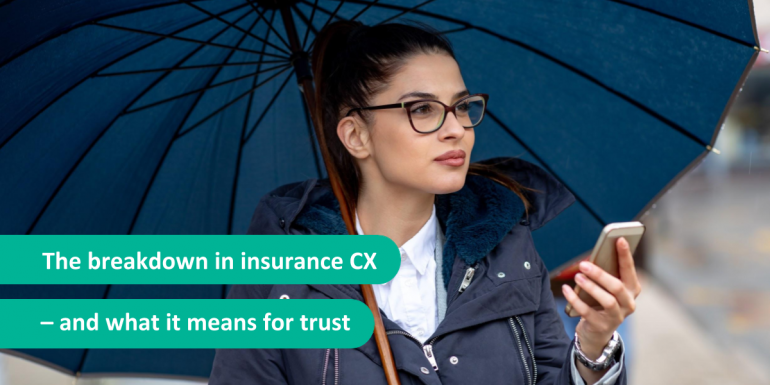 In today's markets, consumers rightly demand the highest standards of customer service. However, increasingly they want more – they want to be able to trust brands if they are to engage with them for the long-term.
So how do brands build this trust? Consumer research by Eptica demonstrates that trust begins with getting the little things right – brands that are easy to do with business with and provide fast, accurate and consistent answers were seen as the most trustworthy.
The insurance sector is currently struggling with multiple challenges – from digitization to greater competition. So how do insurers fare when it comes to trust and their overall levels of customer service? To find out the 2019 Eptica Insurance Digital CX Study evaluated the customer experience capabilities of 10 leading UK insurers in five ways – through the web, email, Twitter, Facebook and chat. Additionally, 1,000 consumers were surveyed online to understand what they see as the key factors behind successful customer service and their preferred channels for finding information from insurers.
The results are stark, with insurance performing poorly in terms of both customer service and trust. The full results are analyzed in the 2019 Eptica Insurance Digital CX Study, with the top five findings being:

1. Customer service performance is poor
Insurance brands provided answers to 46% of all routine questions asked on digital channels. While this is an improvement from similar research undertaken in 2017, where the industry scored just 36%, it means that over half of queries are not receiving a satisfactory answer.
Additionally, while performance has improved, it was only in certain areas, such as Facebook and Twitter. There was a particular fall on email, where the number of questions answered successfully fell from 35% in 2017 to 20% this year.
2. Growing gaps between best and worst
The headline findings mask a chasm between insurers that perform well and those that fail to perform at all. For example, two companies answered on three channels (email, Facebook, Twitter) but another insurer failed to answer on any of these. One company correctly answered 67% of all questions (across all channels) while one scored just 28% (all of which were via the web). This hardly builds trust with consumers.
3. Insurers are on the wrong channels
Insurers seem to have embraced social media, with all of them offering both Twitter and Facebook (up from 70% in 2017) but the number providing chat and email has dropped.
However, our study also asked consumers about the channels they preferred to use, and found a clear disconnect between where insurers were strong, and where consumers wanted answers:
A mere 8% of consumers ranked Facebook as their first or second choice of channel for information – yet insurers answered 65% of queries on the network.
Only 20% of email queries received a satisfactory response, yet nearly half (49%) of consumers ranked this as their primary or secondary channel.
Despite 49% of consumers stating that chat was one of their most preferred channels, only one insurer had chat available when tested.
It feels that insurers are focusing on the wrong channels to deliver the service (and trust) that consumers demand.
4. Insurers are not trusted
Trust begins with getting the basics right, and the Study found that insurers are failing to achieve this. It can be no big surprise that 10% of consumers ranked it as the least trusted industry, making it third from bottom behind automotive and technology. Given the potential disruption caused by new players, such as fintech startups and consumer brands, this lack of trust could see consumers switching quickly away from traditional insurers unless the trust is rebuilt.
5. Time to bridge the resource gap
Like all brands, insurers are having to deal with a growing volume of incoming queries. 88% of consumers say they contact brands the same or more times than five years ago, and their questions are now more varied, more complex and posed across more channels than ever before.
Bridging this resource gap efficiently requires insurers to take a step back. Where can technology be used to better support agents, listen to customers, deflect routine queries or to break down silos between channels to share knowledge? Only by embracing new technology will insurers be able to effectively understand their customers and deal with growing numbers of consumer queries.
The 2019 Eptica Insurance Digital CX Study features in-depth analysis of customer service performance and customer expectations – download your copy of the report here.
Categories:
News, Trends & Markets
You might also be interested in these posts: