Bridging the communication gap between humans and machines
Published on:
March 08, 2017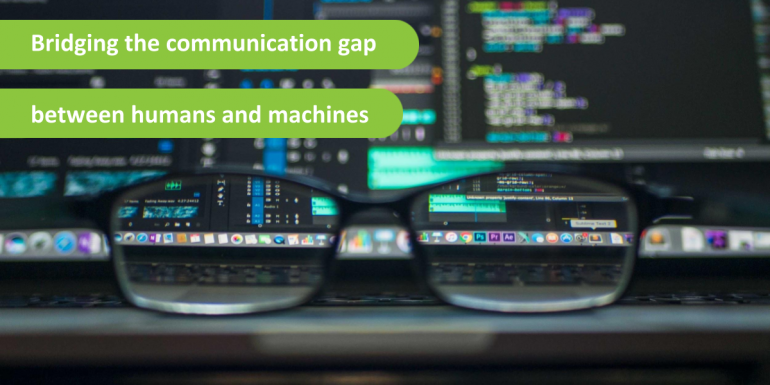 Customers today want fast answers to their questions and to have a seamless, informed conversation with companies, whatever their request might be.They demand a choice of channels on which to interact with brands - with nearly 82%of consumers believing organizations should always offer different channels to meet their customer service needs according to a study by BT. And they want things to be easy – 90% say they will buy more from organizations that are easy to deal with.
Yet at the same time consumers want the human touch for many of their conversations – they want to be understood and receive fast, personalized service. This is where technology can help, particularly the use of artificial intelligence (AI) and Natural Language Processing (NLP). NLP is the application of computational techniques to the analysis and synthesis of natural language and speech, providing programs with the ability to understand human language as it written or spoken. Essentially NLP bridges the gap between humans and machines, analyzing incoming requests and automatically providing relevant, informed answers, either directly or to a customer service agent to support the conversation they are having.
Given the growing recognition of the importance of customer experience, an increasing number of companies are adopting NLP. This is being driven by better IT infrastructure and more demanding customers, who are spending increasing amounts of time on digital channels such as social media. The overall NLP market is expected to grow by over 20%, hitting nearly $1 billion in 2018.
NLP can benefit organizations and their customers in four main ways:
1. Automated routing to reach the right person
Ensuring that incoming digital queries reach the best available person to respond to the consumer can be extremely difficult, given the growing volume of requests that most companies are receiving. By analyzing every digital interaction, whether it is social media, email or chat, NLP can automatically route it to the right person – wherever they are in the company. This not only saves time, but prevents requests being bounced between departments – something that consumers find particularly frustrating.

2. Supporting agents with the right knowledge
Consumers value the human support that agents provide, but expect them to have all their details, and all the information they need to answer their query at their fingertips. NLP augments the human skills of agents by automatically providing them with relevant answers from a self-learning knowledge base, either based on analysis of an incoming query or in response to a question typed by an agent when on the phone. By empowering agents with knowledge, NLP can bridge the gap between humans and technology.

3. Smart search to quickly serve up the right answers
For many basic queries, customers simply want to find an answer instantly. When does your store close? What is your returns policy? Increasingly they want information on their mobile devices when out and about, and don't want to search through your website on their smartphone to find their answer. Using NLP-based smart self-service systems online, either on your website or through channels such as Facebook, instantly connects consumers with the right information, enabling them to continue their journey without having to break off to call or email.
4. Ongoing analysis to plan for the future
Every organization wants to get closer to its customers in order to better understand their needs and therefore provide them with compelling products and services that drive loyalty and advocacy. However, relying solely on customer surveys and market research only provides a partial picture, ignoring those consumers that don't give direct feedback. Through NLP companies can overcome this by analyzing all of the conversations they have, across every channel, using the technology's power to pick out wider themes that can drive improved insight and business decisions. You can see what customers are asking for most, and change how you operate to ensure you provide exactly what they want.
AI and in particular Natural Language Processing can help organizations to have better, more meaningful conversations with their customers and drive a seamless experience that meets their needs, bridging the gap between humans and machines.
Categories:
AI, Trends & Markets
You might also be interested in these posts: