Comparing the customer experience in the UK and France
Published on:
April 27, 2016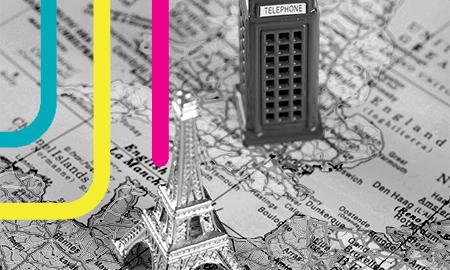 We live in a rapidly globalizing world. Driven by the rise of the internet and improved communications, individuals are increasingly happy to look beyond their own country when it comes to buying goods and services. This increases the focus on delivering an excellent customer experience to consumers, wherever they are located, if companies are going to have meaningful, engaged conversations with their audiences.
So, how does the customer experience compare between countries? Our latest analysis reveals that the UK leads France when it comes to answers via the web, but that French organizations give a more consistent response across multiple channels compared to their British rivals.
These findings come from the Eptica Multichannel Customer Experience Study, which has tracked the changing face of customer service in the UK, France and latterly the United States, over the last five years. It evaluates performance based on how easy it is to receive accurate answers to routine questions on the web and via email, Twitter, Facebook and chat.
The 2016 French Multichannel Study has recently been released, making this a good time to compare the latest data on the experience offered in France and the UK. You can download the full Study (in French) here, but these are the top five conclusions:
1. The UK is ahead on the web
In the UK the web is the first port of call for consumers looking for answers, and businesses have transformed the service they offer over the past five years, meaning they can now answer 66% of questions online. This has increased from 53% in 2012. In France however the web still lags behind, only able to provide answers to 55% of queries. Companies in France seem keen to engage with customers more via the telephone – 87% provided a contact number (up from 84% in 2015), with many sites even suggesting the best times for consumers to call. In the UK the focus is different, with consumers keener to find out information themselves and companies aiming to increase efficiency by deflecting potential calls to lower cost channels.
2. Email struggles on both sides of the channel
Email is still a key channel for consumers as it provides them with a simple way to make contact, complete with a written record of any conversation they may have. This is driving an increased volume of emails in both the UK and France – and the performance of companies shows that they are struggling to cope. Companies replied to just half of emails in France, and 52% in the UK, but British businesses were more accurate, successfully answering 38% of questions, compared to 27% in France. Response times varied from 2 minutes in both countries to 4 days (France) and 5 days (UK). Clearly greater resources are needed on both sides of the channel to meet customer needs on the email channel.
3. Companies should learn internationally
Barriers to market entry are falling fast, making it easier for businesses to move into new countries quickly and challenge incumbent organizations. To combat this, and to improve their own performance, companies should look at what they can learn from overseas rivals in their sector. For example, in the UK just 50% of travel companies successfully answered an email – in France the similar transport sector scored 100%. No French electronics retailers replied to email, yet 90% of their counterparts in the UK did. 30% of British banks answered a Facebook message – compared to 67% of those in France.
4. Social media a strong focus
Both in the UK and France, social media has grown rapidly and is increasingly a key channel for customer service. Companies realize this, with nearly all brands now on Facebook and Twitter, many with specialist customer service pages or handles. However, there is a gap between vision and reality – while 95% of UK brands have a Twitter handle, they can only successfully answer 48% of queries via the channel. In France the findings are nearly identical, with 91% of companies on Twitter, responding accurately to 47% of questions. Facebook is a similar story, with the UK answering 44% of queries compared to 55% in France.
5. Look to France for consistency – if you get an answer
Despite the focus on offering consumers multiple channels, companies are failing to deliver in practice. 18% of British brands only responded on one channel out of email, Twitter, Facebook and chat. In France the position was much worse – 36% answered on one channel and 14% didn't respond on any channel at all. On the positive side for French consumers companies are much more consistent. One organization gave similar answers on four channels (compared to none in the UK), 11% on three channels (8% in Britain) and 30% on two channels (23% in the UK).
Wherever they operate, brands know they need to focus on the customer experience if they are to successfully engage with consumers. Companies in both France and the UK should therefore learn from best practice in order to improve performance and ensure they meet the needs of increasingly demanding consumers.
Categories:
Trends & Markets
You might also be interested in these posts: