Coping with disruption through AI and human customer experience
Published on:
May 11, 2017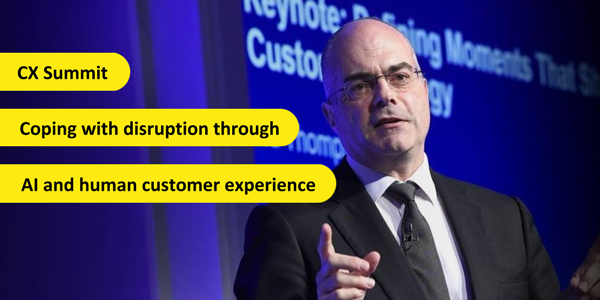 This week's Gartner Customer Experience & Technologies Summit (10-11th May 2017) provides everyone in the sector with the perfect opportunity to take stock of the current state of customer experience – and to help CX teams to plan for the future.

The event also saw the unveiling of the 2017 Magic Quadrant for the Customer Engagement Center (CEC). Based on Gartner's research, analyst Michael Maoz showed that the market is being driven by the rise of the cloud, the growing number of systems involved in the CEC and the rise of mobile. For the sixth year in a row Eptica was included in the quadrant, with particular mention of its artificial intelligence and knowledge management capabilities.

From listening to the keynotes and sessions on day 1, and talking to other delegates who visited the Eptica stand, three key themes stand out:
1. Customer experience is vital to business success
The sheer number of people attending the event, from all across Europe, was a real demonstration of the growing importance of customer experience to the bottom line. This was backed up by the statistics shared by analyst Ed Thompson in his session. He pointed out that there are now over 5,000 senior managers across the globe with responsibility for customer experience. While these have a variety of titles, from Chief Customer Officer to VP or Head of Customer Experience their role is essentially the same – lead a team that ensures that CX meets and exceeds customer needs.
However, there is still work to do – while 100% of CEOs say they care about CX, only 25% are actually taking action to improve it. The result is increasing pressure on senior CX leaders who need to cope with the needs of the C-suite, customers and employees to set and achieve their goals. Ed's session, "Roadmap to Differentiation", outlined the steps companies should take if they want to drive real, measurable results within their business.
2. The world is being disrupted – and CX is at the heart of it
The two keynotes, from Frank Buytendijk of Gartner and futurist Stefan Hyttfors, both covered digital disruption and its impact on consumers and society, now and in the future. Frank looked at how the digital and physical worlds are integrating, and how our identities are merging between the two channels. He urged the audience to respond to change both as CX professionals and digital consumers, and to use their own experiences to inform their strategy going forward.
Pointing out that you shouldn't think about 'digital', but about the value that you deliver, Stefan's presentation focused on the fact that disruption is not driven by competitors, but by inefficiencies in processes. The creation of networks of trust not only undermines respect for traditional institutions such as governments, but also threatens to remove middlemen from processes where they don't add value. Digitalization is leading to a dematerialization of objects in many markets – for example a smartphone replaces 13 different devices, from cameras to record players. Companies therefore need to understand where humans are better than machines when it comes to customer experience, and plan accordingly. He ended on a positive note – while the last 200 years has been devoted to the improvement of outward conditions, such as physical health and economic well-being, the rise of digital will give people the time and resources to look inwards to focus on less material factors, such as happiness.
3. Artificial intelligence alone is not the answer
Building on this, Michael Maoz stressed that humans will remain at the core of customer service in the future. While the percentage of automated interactions, through artificial intelligence, chatbots and self-service will increase, the need for human traits such as empathy, context and understanding will grow rather than shrink.

In fact, 44% of all service needs in 2023 will still require humans, and increasingly these agents will be augmented by technology such as AI, co-browsing and access to centralized knowledge. It is up to organizations to provide customers with a seamless experience that blends technology with human service if they are to win and retain their trust. Michael outlined three key areas to focus on:
- Redefine your channel mix to meet the needs of your customers
- Clearly understand where technology can augment how your agents operate, enhancing the service that they provide
- Select the areas where greater insight and customer analytics will deliver the largest value, and focus on these in the short term
As a sponsor of the event, Eptica is attending and exhibiting on both days of the Summit – if you are attending don't hesitate to visit us and share your thoughts on the future of CX.
Categories:
Artificial Intelligence, AI, News, Trends & Markets
You might also be interested in these posts: