How AI can deliver a personalized and predictive customer experience
Published on:
September 20, 2017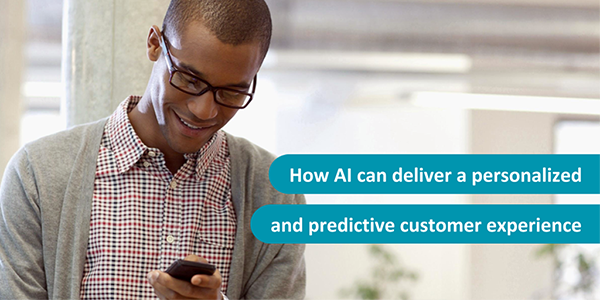 Customers are ever-more demanding, and want fast, high quality and above all personalized service from the organizations that they deal with. For example, 75% of consumers are more likely to buy from a retailer that recognizes them by name, recommends options based on past purchases, or knows their purchase history - and 81% want brands to get to know them and understand when to approach them and when not to, according to research by Accenture.
The good news for organizations is that they now have access to enormous amounts of information about their customers that can be used to power personalization and to even predict issues before they develop. Companies can see what customers have bought, as well as demographic, social media and browsing information, enabling them to build a complete picture of individual consumers.
Two factors are key to doing this successfully:
Thanks to AI, companies and governments are now able to combine personalization with predictive capabilities. Most people have had products suggested to them on ecommerce sites based on their buying history. For example, Amazon generates an astounding 35% of its revenue from implementing product recommendations into nearly every part of the purchasing process. And similarly 75% of what US consumers watch on Netflix come from product recommendations based on such algorithms
Building on this, how can companies succeed with AI-based personalization? There are three areas to focus on:
1. Listen to your customers
While you may have demographic and order-based information on your customers, this is not the whole picture. Ensure that you are asking for their feedback as well as analyzing the questions that they are asking your customer service team. If suddenly you are getting lots of queries about a problem with a particular product, you need to use the information to respond to all customers if you are to head off a potential crisis.
Monitor social media as this can give early warning of issues – people may tweet their frustration before contacting a brand. Make sure that you are connecting all channels so that you can gain a complete picture of what customers are saying.
2. Understand context
Particularly on social media, understanding what consumers mean is not always clear. Just because your brand has been mentioned, it doesn't always mean that you need to
take action. For example, it could be an irrelevant aside, or even part of travel directions (e.g. 'Turn left by McDonalds'). Different terms can be good or bad depending on the context – a small hotel room is not necessarily positive, whereas a small laptop probably is. Ensure that your AI software is powered by text analytics capabilities so that you can automatically filter out irrelevant messages and get to the heart of what customers actually mean to deliver a personalized response.
3. Take fast action
It is vital that you use the information from AI analytics to quickly reply to customers, whatever their channel. That means delivering relevant answers to your agents so they can provide personalized service, updating your knowledge base if there are wider issues that need to be responded to and even warning customers of problems before they are even aware of them. The key here is to balance the human touch and technology in order to maximize efficiency while still providing a personal service. If it is a hotel guest's birthday, don't just send them an automated message, but ensure staff know so that they provide a cake, card or simply wish them a happy birthday when they speak.
With customers increasingly valuing personalization, now is the time for companies to focus on using AI to deliver an improved customer experience, built on understanding their needs, if they want to win and retain their loyalty.
Categories:
AI, Trends & Markets
You might also be interested in these posts: