How are retailers working to improve customer experience?
Published on:
February 26, 2016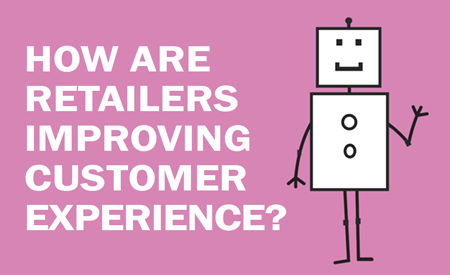 Customer experience is important to every industry, but particularly vital for retail. Fierce competition, exacerbated by the rise of ecommerce, means it is increasingly important for retail companies to differentiate themselves. And with many stores often selling the same products, customer experience is a more appealing way of differentiating than competing on price (which obviously has a direct impact on margins). On the other side of the coin, customers are becoming more demanding and insisting on a superior, hassle-free experience. After all, if they are dissatisfied with the service from one retailer, another is only a click away.
With so much spend now gravitating online, it's particularly important for bricks and mortar retailers to match or even exceed online customer experience if they want to thrive. How can the physical store environment distinguish itself from an online experience? And how can physical retailers make the most of the three big advantages they have:
Immediacy – they can deliver goods now, rather than having to wait for delivery
They can provide in-person one-to-one support and advice from well-trained human assistants
They have the potential to turn shopping into an event.

One approach is to take a leaf out of the internet retailers' book and invest in technology –particularly robotics – that can help make the in-store experience as seamless and straightforward as shopping online. There is a fascinating article in Forbes magazine in which customer experience consultant, Micah Solomon, and retail industry analyst, James Tenser, discuss this issue, highlighted four important trends:
1. The emergence of robots in retail
There are a growing number of examples of robots entering the retail sphere to help improve the customer experience. For instance, a robotic selling machine installed in a Best Buy store in Manhattan, works like a huge vending machine with a hi-tech robot arm positioned behind a glass wall, retrieving products such as DVDs and personal electronics from a shelving system that holds 15,000 individual items, and passing them to shoppers – even after the store is closed. While in a San Francisco apparel store a prototype robot clerk interacts with shoppers, advising them on fashion choices and commenting on whether items will suit them. And a Japanese retail bank boasts a foot high humanoid robot that uses a variety of applications to enable it to greet visitors, guide them to the right place and answer their questions.
2. Sensors in the store
Hand in hand with the emergence of robots is the rise of in-store sensor technology which helps to make the physical experience as convenient, extensive, and streamlined as the online experience. For example OSHbot – a robot deployed in an Orchard Supply hardware store in San Jose greets shoppers in English or Spanish and leads them to their desired purchases. If you show it your bolt; it will find you the wingnut that fits. In five Tesco branches in the UK in-store sensing robots are being used to track and maintain the retailer's F&F brand apparel line – these robots, developed by RF Spot, are designed to rove the aisles, capture store conditions and maintain accurate location maps.
3. Turning shopping into an event
Brick and mortar stores have to embrace the opportunity to make the instore experience something people enjoy and actually look forward to travelling to. Perhaps the best example is the atmosphere that Apple has created in its Apple Stores. The stores use a combination of trendy, relaxed design and layout where shoppers get the chance to play with cool technology supported by highly trained and eager staff who are taught to spend time empathizing and helping customers in order to deliver an enjoyable shopping experience.
4. Driving online customers to the store
In 2015 U.S. consumers spent $1.5 trillion on purchases in-store that originally started or were influenced along the way by digital interactions – and retailers are trying to encourage this trend. For example services such as 'buy online, pick up in store' and 'ship-to-store' are helping to attract traffic to bricks and mortar stores benefiting both customers and retailers. While customers may find it more convenient to pick up deliveries in-store, for retailers there is the potential to generate further sales when the customer sees what else is on offer on store.
All of these show the importance of making the whole customer interaction easy and tailored – something that Forrester is highlighting in its new omnichannel playbook. The analyst firm suggests that retailers need to embrace the full spectrum of omnichannel capabilities encompassing marketing, merchandising, and even customer service so that the experience is excellent whichever channel the customer uses to interact. When developing an omnichannel capability, Forrester stresses the importance of building a strong business case to drive strategy and to help determine the essential versus "nice to have" tools and elements. It also emphasizes the need to benchmark against competitors.
For retailers to survive and prosper they have to focus on continually improving the customer experience, whatever channel customers use. This means investing in technology, innovation and providing staff with the information and knowledge they need to make a difference.
Categories:
Trends & Markets
You might also be interested in these posts: