The impact of the Internet of Things on customer service
Published on:
April 20, 2017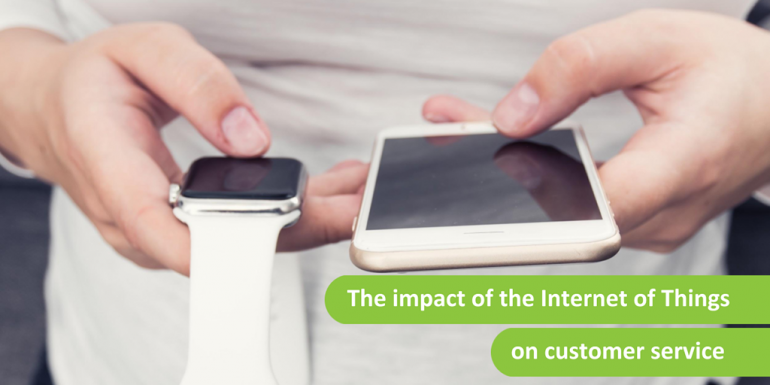 The rise of the Internet of Things (IoT) promises to dramatically change the relationship between people and technology. By "smartifying" all sort of devices, from white goods to lamp posts, to communicate without the need for human intervention the IoT will automate many routine tasks, making life easier for everyone. Whether operating at a personal level through wearables, within electrical devices such as smart thermostats, or city-wide, for example through sensors to monitor and manage traffic flow and pollution, it will transform our daily lives. No wonder that ABI Research predicts there will be 30 billion IoT devices connecting to the internet by 2020.
Research suggests 42% of enterprises are spending an average of $3.1 million annually on IoT. Creating cost efficiencies, improving organizational capabilities, and increasing supply chain visibility were listed by 53% as ways they use data generated from IoT solutions today. 53% of enterprises expect data from IoT to assist in increasing revenues in the next year - and 51% expect it to help open up new markets. And interestingly improving customer experience (70%) is the area where enterprises are using data generated from IoT solutions most often today.
The IoT is likely to bring both opportunities and challenges to brands, centered around four key areas:
1. Predictive customer service
Collecting and transmitting real-time data is at the heart of the IoT, and this has big implications for customer experience. By adding sensors to devices such as cars or home appliances and connecting them to the internet, manufacturers and service organizations can remotely monitor operations and service levels - effectively by-passing the need for consumers to request repairs. Your washing machine could see that a problem is developing, and automatically 'call in' to report it, with either a software update or a technician dispatched, without the consumer having to lift a finger. Already car maker Tesla remotely updates the software in its cars, in the same way that a smartphone app or operating system automatically downloads the latest version.
By 2018, Gartner predicts that by 2018 there will be six billion connected 'things' requesting support and that 5% of customer service cases will be initiated by web-enabled devices via the IoT. Those brands that successfully integrate IoT into their customer service infrastructures will be able to differentiate against competitors and build stronger bonds with consumers by making the ownership and repair process simple and seamless.
2. Data to drive personalization and improvements
Businesses already have access to a large amount of customer data, but the IoT will expand this hugely, opening up new opportunities for more personalized products. Utilities can analyze energy usage and provide real-time tips on how to save money, while insurers can calculate the accident risk of individual car owners by monitoring their behavior behind the wheel, and rewarding good drivers. Access to all this data will also feed into the customer experience brands offer – by analyzing how products are used improvements can be made to tailor them to individual groups and their particular needs.
3. Making the experience easy
By removing complexity the Internet of Things can help organizations deliver a seamless, joined up experience. Whether it is monitoring exercise through wearable sensors connected to mobile phones or being able to automatically switch on air conditioning when a commuter is five minutes from home, all of this makes consumers lives easier and therefore boosts loyalty.
One early application of the IoT in customer experience is the Amazon Dash Button which was originally designed to let you order your favorite products easily with a simple click. Amazon has since built on the idea by introducing a Dash Replenishment Service that lets makers of connected devices incorporate the same functionality into their machines, eliminating the need for a physical, stand-alone button.
4. Overcoming the security challenges
Consumers are rightly very protective of their personal data, and ensuring the highest levels of security is critical to mass adoption of the IoT. Connected toys and sensors have already been hijacked by hackers, while after an argument with a customer, one smart garage door company removed his control over the product. Companies must therefore focus on protecting users from outsiders looking to gain unauthorized access to their IoT devices – otherwise they will face a customer service and brand backlash.
The Internet of Things is a real game-changer for customer experience – reliable broadband services and an increasingly tech-savvy population, coupled with intense competition and rising consumer expectations in most markets mean that those brands that successfully integrate the IoT into their customer experience are likely to reap the rewards of greater customer loyalty and higher revenues.
Categories:
Trends & Markets
You might also be interested in these posts: