Looking into the customer service crystal ball
Published on:
January 20, 2016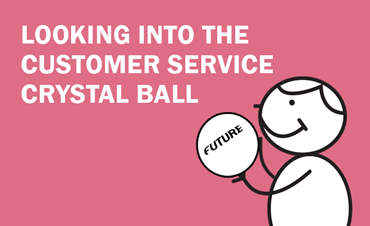 Having recently looked back on customer experience in 2015, what is predicted for the coming year? As always, leading analysts have provided their own thoughts and in this blog I'd like to look at trends highlighted by Forrester and Gartner.
Kate Leggett of Forrester outlines 10 areas for focus in 2016, with these being 5 that she has shared through a recent blog:
1. Companies will make self-service easier
In a 2015 survey, Forrester found that more people used self-service to find information than used the telephone. In many ways this isn't a surprise – consumers want to get answers quickly, and don't want to wait for someone to respond to an email or pick up the phone. Forrester expects the importance and usability of self-service to increase in 2016, with companies making it easier to ask questions, with systems more integrated so that it is simple to escalate more complex queries to other channels. Looking further ahead, Forrester sees products themselves containing self-service capabilities to automatically provide information to users.
Eptica research backs up the need to make self-service easier. In 2015 top companies in both the US and UK could only answer 65% of questions asked on their websites – meaning that nearly a third of basic queries are currently going unanswered. This masks wider problems – 34% of US companies scored 80% or above, while 25% scored under 50%. Some companies are embracing self-service – yet others look like they are being left behind.
2. Better integration to minimize customer time
Nothing frustrates consumers more than when companies waste their time – whether it is holding on the phone, waiting in for a technician or having to re-contact a company if the original answer isn't helpful. To help minimize customer time, Forrester expects companies to make the whole troubleshooting process more integrated and customer-facing. So customer service agents will be able to automatically book and dispatch a field service technician or even allow consumers to choose a time slot themselves. This level of back office integration will also increase efficiency, as well as saving customer time, and boosting satisfaction.
3. Analytics will underpin better decision making
Companies are now able to access huge amounts of data about their customers and their customer service queries, and will increasingly use analytics tools to turn this data into useful information, and provide answers to consumers.
The issue can be the sheer volume of data available – but techniques such as linguistics can help. By automatically analyzing the content of incoming messages, they can be sent to the most appropriate and available agent, with the most likely answer provided. Over the longer term linguistic analysis can also be used to spot trends, such as what customers are most interested in, allowing processes and even products to be changed.
4. Connected devices will trigger service requests
Gartner's IT predictions for 2016 focus extensively on the rise of the Internet of Things and the growth of personal digital assistants. It believes that by 2018 there will be six billion connected 'things' requesting support, and that companies will need to factor these into their customer service processes. Forrester agrees, pointing out that many organizations, such as car maker Tesla, already pre-emptively use the internet to push software updates to their products. This will become more of a two-way process, with products themselves 'phoning home' for fixes when required – all without bothering the end user.
5. The customer service technology ecosystem will consolidate
As the customer service market matures and the end-to-end experience becomes vital, Forrester expects to see vendor consolidation within three main areas – queuing and routing technologies,CRM customer service, and workforce optimization. This will make it easier for organizations to plan and implement integrated customer service infrastructures, but has to be balanced against ensuring that you have the functionality and innovation necessary to differentiate your brand in the market.
Will all of these predictions come to pass in 2016? In my experience, they will definitely be important, but are likely to be longer term as different companies implement at different speeds. What they do show is the paramount importance of the customer experience and how central it is to the success of every business today.
Categories:
Trends & Markets
You might also be interested in these posts: