So how did customer service perform in 2015?
Published on:
January 22, 2016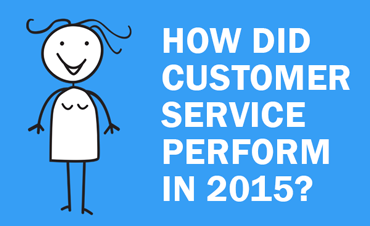 We've already covered the trends that have developed in customer service last year, and now is a good time to take stock and review the statistics on how customer service fared in 2015 – what went well, what went badly – and why.
The US picture – could do better
Overall 2015 was a poor year for customer service across the US, with close to six out of ten companies (59%) seeing a fall in customer ratings according to the American Customer Satisfaction Index (ACSI). In fact, 70% of the industries analyzed by the Index experienced dips in average scores for customer service.
While the general trend shows a decline in customer service, the Index, which tracks customer satisfaction for over than 330 companies in 43 industries based on interviews with 70,000 customers, did highlight some sectors where there were positive gains. Three of the five industries that showed improvements were internet-based – ecommerce, social media and online travel – indicating that consumers are embracing the online channel for its convenience, efficiency and price.
Leading in terms of customer satisfaction gains according to the ACSI was Facebook, which improved by 12 percent to achieve a score of 75. This is particularly impressive bearing in mind that in 2012 Facebook was at the bottom of the ACSI's social media category and near the bottom of the overall ranking.
This overall downward shift is echoed by the 2015 Eptica Retail Holiday Customer Experience Study. This polled 1,000 US and 1,000 British consumers on Cyber Monday about their experience of online customer service during the holiday shopping season. It found that 35% of American consumers were dissatisfied with their online experience during November 2015, while 18% said it was impossible or extremely difficult to find information they needed on retailers' websites. In store 40% were unhappy with the service they received.
The United Kingdom – customer service recovery?
In the UK, while customer service has generally also been on a downward trend, there are small glimmers of hope that things could be improving. After four consecutive falls in customer satisfaction, the Institute of Customer Service's UK Customer Satisfaction Index (UKCSI) was up for the first time in two years in mid-2015. While this was only a small rise (of 0.2 to 76.2 out of 100), it was at least a step in the right direction.
Comparing US and UK customer service in 2015
Focusing on retailers, Eptica's data shows US companies are better at providing customer service by email – with UK retailers taking around five times longer than those in the US to respond to emailed questions. On the other hand UK brands perform better when it comes to social media customer service. 43% of UK retailers responded to tweeted questions, taking an average of 4 hours 5 minutes. Just 20% of their US peers provided a correct answer, and took an average of 31 hours. Retailers in both countries rate very similarly in terms of providing customers with information on their websites and both are performing poorly in online chat.
So, why the generally poor performance in customer service in the US and UK in 2015?
Three important factors are likely to be playing a role:
Multichannel customer service struggles: Companies seem to be struggling to adopt a fast growing number of new customer service channels and technologies. At the same time, consumers are excited by the prospect of using these new touchpoints to communicate with companies and are therefore doubly disappointed when things don't go smoothly.

Staff turnover: As the economy improves, staff turnover in retail jobs tends to increase as people are more confident about seeking out new opportunities. The negative side of this is that those who leave are replaced by new staff who need training and take time to settle in and gain experience – with the knock on effect of disrupting customer service performance.

Customers are more demanding: The internet has empowered customers and made them much more demanding about the service they expect. The web means it's easier than ever for people to find and move their business to another supplier if they are not happy with the service they are receiving – and nowhere is this truer than in retail.
Customer service and the overall customer experience delivered by any company are now more vital than ever. Yet the data from a variety of sources indicates a general disenchantment from consumers about the service they received last year. For those who want to retain existing customers and win over new ones, now is the time to benchmark against rivals (and those in other industries) and invest in staff and technology to enhance customer service.
Categories:
Trends & Markets
You might also be interested in these posts: