Travel – dealing with a crisis
Published on:
October 16, 2019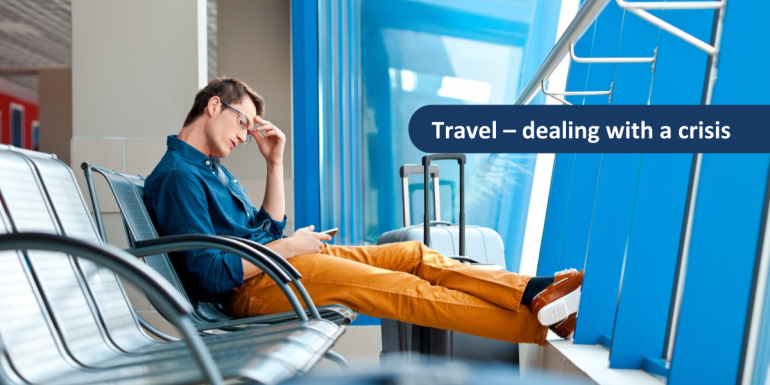 The collapse of Thomas Cook has ruined the breaks of hundreds of thousands of holidaymakers. Over 140,000 customers have had to be brought home from their destinations at a cost of £100 million, in the UK's largest peacetime repatriation. 360,000 people are due refunds on holidays booked with the company – 60,000 submitted claims on the first day of the refund website going live. On a positive note, high street rival Hays Travel has now stepped in to take over 555 stores and hopes to keep on 2,500 of Thomas Cook's staff.
The sheer scale of the crisis highlights two key points. Firstly, that the travel sector is ultra-competitive, meaning that even the largest brands can struggle. Consumers now have unrivalled choice around where they go, and how they book their breaks. They expect a wonderful experience on their hard-earned holiday and will have no hesitation in sharing any complaints on social media.
Secondly, a major crisis can strike any company, of any size and sector. That means that brands need to be ready with contingency plans to deal with everything from a hacking attack to business disruption caused by external or internal factors. To be fair to Thomas Cook many stranded holidaymakers praised the customer service provided by its employees within its resorts – even though these same staff members knew that their jobs were at risk thanks to the collapse.
Cancellations and delays - the state of travel customer service
Looking more broadly, how does the travel sector fare when it comes to the customer service it delivers? As part of the Eptica 2019 Digital Customer Experience Study, ten major travel brands (including Thomas Cook) were evaluated on the service they provided on email, social media, chat and the web. Consumers were also asked about how much they trusted different sectors, including hotels, holiday companies and airlines.
The results don't make happy reading for holidaymakers. Overall, travel companies could only answer 51% of routine queries asked across all channels, well below other sectors such as fashion retail and food and drink. However, the figures did mask major differences between brands and channels. For example, three travel companies answered 100% of routine questions asked via their website, yet two brands only managed 40%. One email received a successful response in 16 minutes – another took nearly 46 hours.
How can travel companies ensure that they are delivering high-quality customer service? Based on the research and our experience, there are four areas for focus:
1. Be on the right channels
Consumers now want to communicate with brands on a wide variety of channels, from chat and email to social media, the telephone and the web. That means ensuring you have a presence on each of these and are delivering a consistent experience across all of them. This isn't the case for many brands. Three out of 10 only responded successfully on a single channel out of email, Twitter, Facebook and chat, forcing consumers to use particular ways of communicating with them.
2. Share knowledge
A holiday is a major purchase and consequently, consumers have lots of questions both before they book and when they are taking their break. Being able to respond effectively to them requires a joined-up approach that shares knowledge between channels and teams. For example, imagine if a holidaymaker has a question about access or dining options at a specific resort. If a customer service agent is able to pass the query to a local rep they can get a detailed answer that will enable the holidaymaker to plan before they leave. Breaking down silos is therefore crucial as it helps improve the experience as well as increasing efficiency.
3. There's a need to build trust
As part of the research, consumers were asked which sectors they trusted most. Travel companies languished at the bottom of the table. 21% of consumers rated food retailers as the companies they trusted most – well ahead of hotels (5%), holiday companies (4%) and airlines (joint bottom with 3%). Obviously travel companies must cope with many circumstances beyond their control, such as freak weather conditions or delays caused by airport closures. However, they clearly need to work harder on how they deal with these issues, particularly when it comes to communicating effectively with customers and providing fast access to statutory compensation.

4. Companies need to learn from each other
The gap between the best and worst travel companies is growing. One brand only responded on a single channel, and then failed to give a helpful answer. Yet two competitors successfully answered on three out of four channels (email, chat, Twitter and Facebook), when asked the same question. Travel companies, therefore, need to benchmark themselves against their competitors, and other brands known for their customer service, and use these lessons to improve how they operate.
The knock-on effect of Thomas Cook's demise is that remaining travel companies are facing unprecedented demand, as holidaymakers quickly look to switch to alternatives. To successfully meet this challenge and to guarantee happy holidays for all, travel companies need to focus on customer service now and in the future.
You can download your copy of the 2019 Eptica Digital Customer Experience Study, which includes an in-depth analysis of travel customer service, here.
Categories:
News, Trends & Markets
You might also be interested in these posts: