Understanding 6 key trends in UK customer service
Published on:
July 06, 2016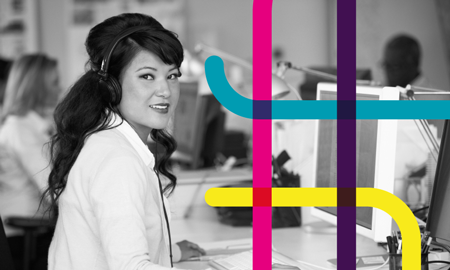 Customers are increasingly demanding about the levels of service that they receive from brands. Given this pressure, along with the need to operate as efficiently as possible, how are contact centers evolving to meet changing needs? Providing a view into the industry, the UK Contact Centre Decision-Makers' Guide from analysts Contact Babel provides a rich and detailed picture of the state of the contact center industry today, covering a variety of factors from technology investments, to the channels that customers prefer for making complaints.
The report is based on a survey of 221 UK contact centre managers working across 11 different vertical industries ranging from small contact centers of up to 50 agents to those with 200+ agents.
Here are six interesting trends and findings that we uncovered from the report:
1. Plans for technology investments
Current technology is not seen as fit for purpose – more than 60% of decision-makers feel that their infrastructure is holding them back from achieving the contact center's full potential. This is due to a lack of investment, and the inability to replace bespoke and highly-customized existing systems. The persistence of non-integrated and siloed channels is also seen as a major problem.
Looking to the next 12 months, key priorities are to invest in technology that supports areas such as chat, email, SMS and social media, through both new systems and replacements for existing ones.
2. What's important to consumers
Email is still the most popular way for customers to make contact with a business according to 36% of contact center managers. However, when complaining, customers prefer using the telephone (54%), email (23%) and social media (13%).
Although it's vital to offer customers a mix of channels to make contact, it's also important to understand the specific preferences of your customer base in order to have the right resources in place. For example, 28% of customers who are 65+ prefer to make contact with a business face-to-face, compared with 14% of those aged 18-24. Similarly, 15% of 18-24 year olds prefer to make contact using their mobiles, but only 5% of over 65s do.
For all channels it's essential to work out what aspects of service are important to the customer. The primary goal for customers calling by telephone, for example, is getting an answer first time is (54%), followed by polite agents (17%), and short waiting times (15%).
3. Increasing complexity for agents
Responding to incoming interactions is becoming more difficult for agents. For example, in the average contact center, 52% of calls require agents to access between 3-5 different applications – while 10% require more than five.
Needless to say this complexity has an impact on the length of calls and the productivity of agents as well as the satisfaction levels of customers. So it's a priority for contact center management to simplify things by consolidating information into fewer systems and breaking down silos.
4. The need for smarter approaches to call routing
On average 77% of contact centers are routing calls and emails by forwarding them to the next free agent, rather than analyzing and routing them based on a customer's history or their identity. It is high time contact centers got smarter about this to make call routing more intelligent and seamless in order to improve and speed up the customer experience.
For example, technology such as linguistics works by automatically analyzing incoming interactions, prioritizing them based on tone and routing to the most relevant agent or department and suggesting relevant answers from the knowledge base. This gives a faster, more comprehensive and efficient service.
5. Responding to social media queries
When it comes to social media customer service the majority of contact centers are failing to deliver on customer expectations. 24% of those questioned in the research set a target of responding to queries on social media within a day, while 4% set a target of replying by the next day. 8% don't have a target response time on social media at all.
If you compare these with Eptica's survey of what consumers themselves expect you can see that there's a big gap. On Twitter, Eptica's data shows that 64% of consumers demand an answer within 60 minutes, while on Facebook most users (85%) expect a response within 6 hours.
6. Managing email more efficiently
The research suggests that email makes up on average 17% of incoming queries from customers. However, it's probably even more important for small and medium sized contact centers – who receive 21% of interactions via email, compared with 10% for their larger counterparts. And, with the research also suggesting that the cost of replying via email ranges from £1.30 to as much as £4.10 per response, it's also particularly in the interests of those smaller contact centers to be as efficient as possible when handling emails in order to keep costs down. There are number of things they can do:
Minimize the number of unnecessary emails received by ensuring that routine information is available online.
Use intelligent routing to prioritize emails and ensure they are passed to the agent with the best skills (based on an analysis of incoming interactions – looking at factors such as language, type of product and even sentiment).
Make responding to emails easier and quicker for agents by creating a centralized knowledge base that contains approved information for agents to use and build templates that are automatically suggested dependent on the query.
For companies receiving more than 100 emails a day, then consider replacing desktop email with an end-to-end platform with in-built workflow. This gives better control, greater efficiency and can help improve service levels.
You can read Contact Babel's comprehensive analysis of today's contact center industry by downloading the UK Contact Centre Decision-Maker's Guide 2015, from http://www.eptica.com/2015-uk-contact-centre-decision-makers-guide-email-management-chapter-0.
Categories:
Trends & Markets
You might also be interested in these posts: