What's the state of European customer service?
Published on:
December 09, 2016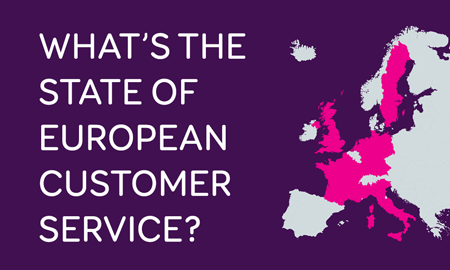 Wherever they are in the world, consumers have rising expectations when it comes to the experience they receive from brands. But how does it vary between different countries? To find out Engage Business Media recently surveyed over 3,000 consumers in six European countries (the UK, France, the Netherlands, Germany, Italy and Sweden).
Analyzing their responses paints a picture of consistently high expectations across Europe – with consumers unafraid to switch provider if they don't get what they want. Amongst the results, five key areas stood out:
1. The need to get it right first time
Consumers value a seamless experience that provides the information and answers they want, first time. Over three quarters (77%) of respondents said it was very or extremely important that their query was resolved through a single interaction – with a further 20% judging it as 'moderately' important. As one respondent commented "companies do not deserve repeated chances to put things right."
Successful First Contact Resolution has benefits beyond boosting customer satisfaction. It also reduces the volume of interactions that a company receives, bringing down costs and freeing up staff time to focus on other queries. Key to getting it right first time is arming agents with the right information so that they can respond quickly, confidently and consistently, across every channel.

2. Listen to customers and respond to their comments
Less than a third (32%) of European consumers said they'd carry on doing business with a company that failed to acknowledge their feedback. 64% wanted to receive an answer to their message, rising to 79% in France. This demonstrates the importance of building engagement with customers and listening to their views, whatever channel they use to express them. Increasingly consumers will only stay loyal if they feel they are receiving the personalized, tailored experience that best meets their needs – analyzing their feedback and the questions they ask is the best way to drive ongoing improvement to deliver this.
3. Deliver fast responses
There have been many research reports which highlight the importance of speed when it comes to customer service, and the Engage study shows that the demand for fast responses is universal. 50% of consumers want to get a reply to their message within the same working day, with a further 18% expecting an answer within 24 hours. Italians are the most impatient – with 34% demanding a response in 6 hours (against 24% in other countries).
Given the increasing volumes of queries that companies are receiving they need to ensure that they have the resources in place to meet changing customer expectations. Technology can help – for example, using linguistics will enable incoming digital queries to be analyzed and template answers automatically suggested to customer service agents. This brings down handling time and allows the fast responses that consumers demand.
4. Address their frustrations
The biggest issue consumers reported were companies that failed to deliver on their promises, cited by 32% of survey respondents. This was followed by being asked for the same information multiple times (28%) and failure to resolve queries first time (19%).
Many of these frustrations stem from the same cause – a lack of joined up thinking between departments and systems, which means that agents don't have the information or knowledge they need to provide successful responses first time. To combat this many organizations are creating customer hubs, which bring together skills from across the business to work together to solve consumer issues, speeding up both response times and consistency.
5. Be on their channel of choice
Consumers want to be offered a full range of communication channels, and to be given the choice to use the one that best suits their particular needs at that time. So while 58% said they'd be happy to use online-only processes, 78% wanted a telephone number to be clearly displayed on the company website so that they could switch to that channel if required. Yet 60% of CX professionals said they'd removed or hidden phone contact details, normally in a bid to reduce call volumes and encourage consumers to use other channels.
Ensuring that customers have a choice is vital – depending on their needs or query they may well switch channel, so companies have to resource all of these in line with demand. To help with this look to break down silos between channels, sharing information, such as through centralized knowledge bases, and by multi-skilling agents so that they can easily handle different types of queries.
Across Europe, consumer expectations are rising, meaning that whatever industry or country you operate in the customer experience you provide is critical to winning and retaining their loyalty, now and in the future.
Categories:
Trends & Markets
You might also be interested in these posts: