The Year of Humanity: Putting the customer first in 2018
Published on:
January 31, 2018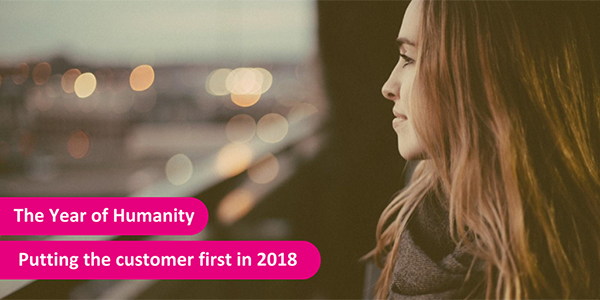 Amidst all the talk of artificial intelligence, chatbots and the Internet of Things transforming the relationship between brands and consumers, it is easy to forget the vital importance of the human element to successful customer service. While technology such as self-service can provide answers to a huge range of routine consumer queries, there are times when consumers want to speak to another human. Research by Accenture backs this up – it found that 71% of British consumers wanted to be able to talk to a human agent at a brand when looking for in-depth advice.
Building on this theme, Temkin Group has declared 2018 to be the Year of Humanity when it comes to customer experience. As it points out organizational success is driven by engaged employees and loyal customers, meaning it is vital to focus on the underlying needs and behaviors of these human beings. To achieve this the Temkin Group believes that brands should follow three key principles:
Act with Purpose. Understand the purpose behind people's actions and engage with consumers by demonstrating your purpose to them, and ensuring all your staff support this.
Cultivate Deep Empathy. Understand what motivates consumers and show that you really empathize with them, as well as help them solve their problems.
Create Positive Memories. People don't remember the mundane – they remember how you treat them at key moments in their journey. So, ensure that you understand what these are and put additional effort into making them positive and memorable.
Making sure that your customer experience is focused on the 'human element' can be difficult – after all, most brands are receiving huge volumes of incoming queries from consumers, across more and more channels. These are increasingly digital, so it can be difficult to understand the real meaning of what consumers are saying, holding back the ability of agents to have the human conversations that customers are looking for.
How can brands overcome these issues and ensure that they are putting people first in every interaction? In fact, technology can help – in three main ways:
1. Freeing up agent time
Today's connected consumers value speed and simplicity as well as the human touch. For many simple interactions they want fast information or the ability to update their own details quickly without needing to phone or email a company. So use self-service technology to make this as seamless and simple as possible – not only will this improve satisfaction, but more importantly it will free up agent time to deal with more complex, involved interactions where they can use their human skills to have a meaningful conversation with consumers.
2. Empower agents with greater understanding
Digital interactions have none of the context that face to face or telephone conversations provide. This can make it difficult for agents to understand the tone, or even the meaning, of digital communications from consumers via channels such as email and social media. AI-based technology that uses Natural Language Processing to analyze messages and understands what they really mean should therefore be a vital part of every CX program. These solutions can automatically suggest relevant answers from a knowledge base, and provide agents with valuable information around the context and tone. This lets agents focus on the human aspects of the conversation and helps them build rapport and empathy.
3. Listen at a human level
Brands need to continually advance the customer experience if they are to win the long-term loyalty of consumers. That means understanding what they are doing right and where improvements have to be made. As the Temkin Group suggests, they need to create positive memories at key moments in the customer journey. This requires them to listen and understand all the conversations that they are having with their customers. They need to do this at scale, meaning carrying this out manually is simply not feasible. Brands therefore need to use AI-based customer intelligence systems that analyze all digital interactions to gain insights that will drive transformative improvements.
Customer experience is a balancing act – it requires both technology and human skills, working together to deliver the service and relationship that consumers require. That's why technology is key to making 2018 the Year of Humanity in CX.
Categories:
Trends & Markets, News
You might also be interested in these posts: