Customer Service in 2020: Reflect, Refocus, Reignite
Published on:
March 11, 2020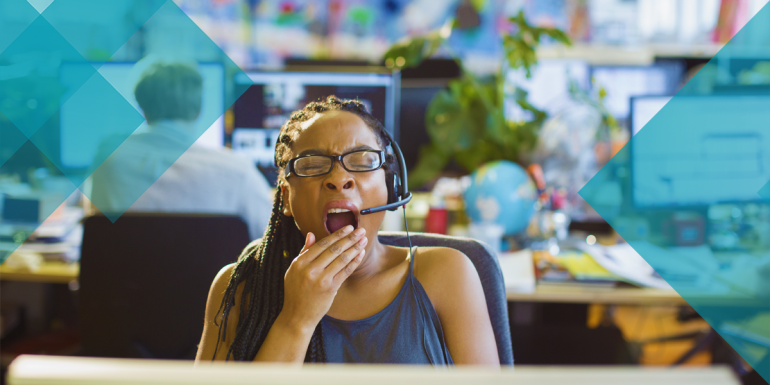 Last week's Institute of Customer Service (ICS) Conference provided the perfect opportunity to bring the industry together to share best practice, highlight strengths and look to the future. The event's theme "Reflect, Refocus, Reignite" perfectly summed up what companies and organisations really need to do during these challenging times.
As a reminder, the UK Customer Satisfaction Index (UKCSI), released in January by the ICS, shows that customer satisfaction is at its lowest level since July 2015, the fifth consecutive fall in the twice-yearly index and the longest period of decline in the report's history. This drop in performance has a clear impact on loyalty and profitability and, as we'll see later on, this could be costing UK brands £33 billion a year.
So, what can companies do to overcome this challenge and to meet the needs of increasingly demanding consumers? Eptica attended this event along with parent company Enghouse Interactive and from the conversations we had on our stand and the presentations we attended, there were 3 key standout points.
1. Reflect: Purpose
Consumers today live in a world of ever-expanding choice, and are looking beyond traditional factors such as price when it comes to choosing which companies to engage with. They want to buy from brands that share their values, particularly around areas such as sustainability and ethics, which means that companies need to have a clear sense of purpose. As Jo Causon, ICS CEO, pointed out, this boils down to understanding who you serve, who drives you, and above all who would miss you if you were gone?
This move to purpose-led organisations goes far beyond customer service. In 2019 the Business Roundtable, the US's most prominent business group, announced that corporate purpose should be wider than simply generating returns for shareholders, and needed to take into account the requirements of employees, the environment and customers.
The theme of purpose continued in presentations from the likes of Nationwide, which has added purpose to its service proposition and looked at what it can do for its wider community. With this vision in place, it aims to fix broken parts of the process that undermine its efforts and removed misaligned incentives that may damage the customer relationship.
John Lewis explained that service should be delivered based on the primary need of your customers and gave the example of moving its personal shopping service to the centre of its stores, emphasising its importance on understanding how purchases make customers feel. They might be buying clothes but the retailer understands that it might actually be about regaining confidence after a major life event, which requires a warmer and more personalised customer experience.
2. Refocus: Culture
Turning purpose into something that everyone in the business understands and acts on relies on having the right culture in place. Without it, no matter how customer-centric your marketing is, the service you provide will not deliver on your promise, undermining the relationship. Can everyone understand your strategy and are they working to deliver it?
For example, Scottish Water is a monopoly supplier in its markets. However, in its presentation, the utility outlined that a key part of its culture was to run the business as if it did have competition and that customers could leave. This helps ensure the customer is always central to decisions across the organisation.
Some of the key aspects of this culture were also reinforced by Jo Causon, who stressed the importance of continually improving the customer experience, particularly by looking for and removing low-level irritants that upset consumers and get in the way of a seamless journey. Fixing these problems will build trust and transparency.
Joe Garner, Nationwide's CEO rather aptly quoted Muhammad Ali's "It isn't the mountains ahead to climb that wear you out, it's the pebble in your shoe" to emphasise the importance of solving your customer's problems before they wear out your relationship.
3. Reignite: Enabling your team to excel
Most speakers mentioned the clear link between engaged employees and happy customers which means that companies need to focus on the experience they provide to their own staff. Customer service teams need to be given the tools, knowledge and capabilities to ensure they are engaged and energised and can focus on helping customers.
The move away from metrics such as calls handled to satisfaction scores such as CSAT also goes a long way to drive this change of approach, as does better support and recognition for agents.
Traditionally many businesses have seen customer service as a cost-centre, rather than a source of differentiation and profit. This is far from the truth. Jo Causon talked through the success stories in the ICS UK Customer Satisfaction Index and outlined how they actually deliver greater engagement and revenues through service. If their experience was replicated across the country it would deliver £33 billion in productivity gains, as well as reducing service failures and customer churn.
As the ICS annual conference highlighted, customer service has never been more important. Companies must act on the message from the event and ensure they reflect, refocus and reignite the experience they provide to consumers across every channel.
(BTW, one particular highlight of the day was everyone performing the Haka - yes really! This was designed to energise the audience after lunch but it might be a bit much to bring back to the office...)
You might also be interested in these posts: