How AI-based self-service can transform the customer experience
Published on:
June 19, 2018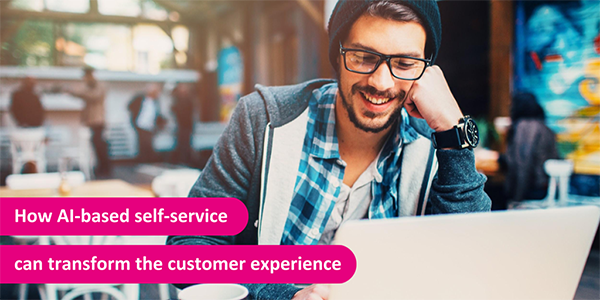 The internet is now the primary channel for most consumers when it comes to shopping, connecting with friends and families and communicating with brands. The latest Internet Trends Report from influential venture capitalist Mary Meeker found that the average adult spends 5.9 hours per day online, up from just 3 hours in 2009. That's more time than is spent watching TV or in physical shops.
This means that websites are now the primary way that consumers interact with brands. However, unlike a physical shop or bank branch, there's no human on duty to automatically offer to help consumers when they are stuck or look like they are about to abandon a transaction. 40% of UK shoppers said they gave up on a purchase because of poor service, while Eptica research found that 84% of consumers will switch to a rival if a website doesn't provide them with the information they are looking for.
At the same time websites are becoming larger and more complex to navigate. How can brands, therefore, deliver the online experience that consumers expect and demand? The answer is self-service systems that make it easy for consumers to ask detailed questions and get fast and accurate answers that ensure they are able to continue along the buying journey. There's a clear link between strong self-service capabilities and award-winning customer experience – for example, brands such as Amazon that consistently rank at the top of satisfaction indexes rely heavily on self-service.
Done well, self-service not only boosts the customer experience but it also increases sales and efficiency. Providing timely information makes consumers more likely to buy while deflecting queries from more expensive channels such as the telephone or email means that brands can reduce their costs.
However, not all self-service systems deliver the same experience. To ensure you get real benefits you should look for these six functions:
1. Built on AI
Traditional keyword search systems rely on consumers typing in the right query exactly in order to receive a useful, informed answer. Too often questions have to be exact or deliver hundreds of results. Using artificial intelligence (AI) techniques such as Natural Language Processing (NLP) and text analytics allows self-service systems to understand the real meaning behind a question, and then to deliver only relevant answers to consumers.
2. Be visible and intuitive
Like every part of the customer experience, self-service needs to focus on the requirements of the consumer. Therefore, make it easily accessible and visible on every page so that visitors know where to turn if they need information. Demonstrating this, 90% of consumers surveyed by Eptica said they want to be able to find the answer without searching through multiple locations or leaving the page they are on.
3. Based on centralized knowledge
Successful self-service systems are powered by an up-to-date, accurate and centralized knowledge base. This should be easy to manage, and self-learning to ensure that it is continually improving the accuracy of results. Make it simple for consumers to rate answers, and further increase efficiency by using the same knowledge base across multiple channels, such as email, social media and the telephone, as well as the web.
4. Understand and act on the context
Consumers have different questions on different pages of your site and at different stages of the buying journey. By understanding this context you can even avoid them having to ask questions at all – provide them with links to relevant articles automatically on specific pages, meaning they can simply click or tap to find out information.
5. Mobile first
Of the 5.9 hours a day spent online, well over half (3.3) are through mobile devices. Consumers consequently expect the same high-level experience on their smartphone or tablet as on a PC. Ensure that your self-service system is mobile friendly and can operate easily and effectively, whatever device is accessing it.
6. Integrated and easy to escalate
Some online queries are straightforward and should be simple to answer through technology. For example, questions on opening hours or last posting dates for Christmas. However, often a consumer will have more detailed follow-up queries or want to continue the conversation with a human or on another channel. Therefore, provide the ability to seamlessly escalate to channels such as chat or email, retaining the history of the conversation so far, so that customers don't need to repeat themselves.
Consumers are increasingly demanding – they have more complex needs and they want brands to value their time and make it easy to receive accurate answers to their queries. That's why it is crucial to ensure your self-service system has the understanding, intelligence and knowledge to meet their needs if you want them to remain loyal to your brand.
Categories:
AI, Product, Artificial Intelligence
You might also be interested in these posts: