Telecoms customer complaints rising in the UK
Published on:
December 18, 2015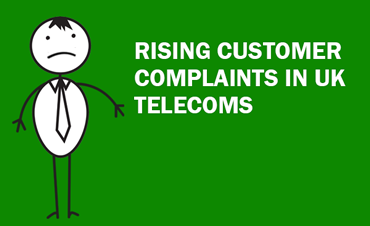 Telecoms has always been important at Christmas, with families and friends keeping in touch by telephone for many years. However, the rise of superfast broadband, social media, IP telephony and on-demand/pay-TV services mean that it is now an essential part of the Christmas experience for the majority of families. Whether it is watching sport on satellite TV, downloading the latest music, streaming catch-up TV or Skyping distant relatives, more and more activities rely on telecoms networks. And with new mobiles, tablets, PCs and other internet-connected devices, such as smart TVs, top of many people's Christmas lists, expect there to be even more expectations for operators to perform over the festive period.
How will they cope at this critical time? New research from UK regulator Ofcom provides some pointers. According to its latest customer service report complaints against telecoms companies are increasing. Q3 2015 figures show that the total volume of complaints about mobile, fixed line, broadband and pay-TV providers grew from Q2, with broadband and fixed line operators generating the most issues.
There are four clear conclusions from Ofcom's report:
1. Big gaps between best and worst
As the Eptica Multichannel Customer Experience Study found, there are enormous discrepancies between the best and worst telecoms providers. For example, some broadband providers received 35-45 complaints per 100,000 customers, while others only had 6 or 7. Given one of the key reasons Ofcom publishes its data is to provide consumers with useful information prior to choosing a supplier, the laggards at the bottom of the table will need to improve service if they want to retain customers going forward.
2. Complaints come through many channels
On average Ofcom receives nearly 300 complaints every day. However, it is only one of several channels that way that consumers have for raising issues and often problems are only escalated to Ofcom when other channels, such as complaining internally or through independent ombudsmen, have been exhausted. Therefore, there are likely to many more dissatisfied or angry customers that are not making it onto the statistics.
3. Operators struggling to handle customer complaints
Many of the issues raised with Ofcom concerned service problems, with network faults driving consumers to complain. However, a significant number (nearly a fifth for many operators), were around how the consumer's complaint was actually dealt with. While network issues can be caused by factors outside an operator's control, such as the weather, customer service is something that should be on top of. This means that providing a speedy, comprehensive and helpful resolution should be top of every telco's priority list. Ofcom has already fined several providers for poor complaint handling procedures and other investigations are ongoing – showing how seriously it takes this area.
4. Switching is becoming easier
As well as taking action against operators that fail to provide decent customer service, Ofcom hasalready made it easier to switch broadband supplier. From June 2015 the process for consumers and businesses changing operator has become less complex, with the aim of increasing competition. In its report the regulator states that it is continuing work to make switching easier, showing that more action may be taken in the future.
Reliable, fast broadband, mobile and fixed line telephony is now seen as an essential utility by consumers, rather than a luxury. As with other utilities, customers have high standards and are increasingly likely to complain if service is poor. Operators therefore have to ensure they are investing in the customer experience and providing the resources to deliver superior service if they want to win and retain business going forward into the New Year.
Categories:
Contact Center, CRM, Customer Engagement, Customer Experience, Customer Service, Linguistics, Multichannel Customer Service, Social Media, Telecoms
You might also be interested in these posts: