Why the future of digital CX requires the death of the ticket
Published on:
February 14, 2017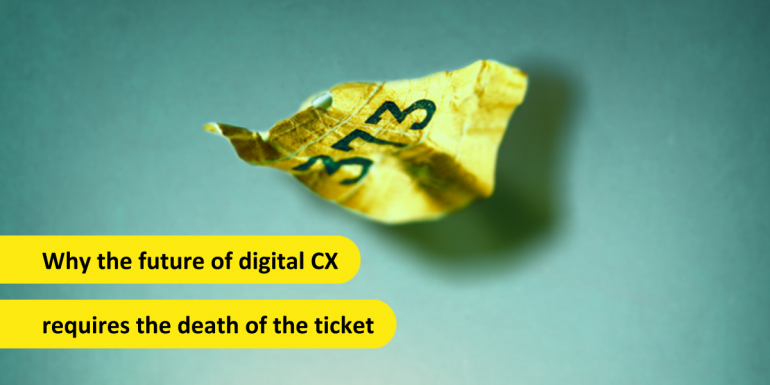 When companies began using digital channels for customer service, they needed a way of keeping track of every incoming query so that they could ensure that they were handled effectively and responses dispatched in a timely manner.
To achieve this they adopted a service/help desk concept, taken from technical/B2B markets. A consumer submitted his or her query, was given a ticket number and waited until they received a response. Customer service agents worked diligently through the list of outstanding tickets, normally in chronological order, sending off responses and being judged through metrics such as how many queries they handled and if they resolved the customer's question. If the consumer sent a follow-up message, it often went to the back of the queue, to be handled when its turn came.
The need for meaningful conversations
While this approach was acceptable in a technical help desk environment, it doesn't match the changing needs of consumers. People want to be understood, and have a two way, fast and, above all, meaningful conversation with brands. They want companies to demonstrate empathy and understanding of what they require if they are to be happy, engaged and loyal.
At the same time, brands have to cope with an unprecedented growth in the volume of contacts they receive on digital and other channels. Customer expectations are rising when it comes to the speed at which they expect answers, the level of personalization and the depth and range of queries they raise. And they are ever-more likely to switch to a competitor if they don't receive the experience they expect.
So not only do brands need to engage in meaningful conversations, they have to be able to do this at scale, while at the same time ensuring that they are efficient when it comes to talking to consumers.
How do forward-looking brands need to adapt so that they are able to treat their customers as more than just a number?
1. Empower your people
To enable employees to have meaningful conversations with customers you need to do three things:
Arm them with as much information as you can
Empower them to decide what needs to happen next
Allow flexibility in how agents resolve the customer's query
By combining access to customer records with an artificial intelligence enabled centralized knowledge base and an adaptable workflow employees benefit from having all the relevant customer information, fast access to up to date and consistent answers and the flexibility to do what needs to be done.
When they have all this information and technology at their fingertips, staff can focus on building a stronger relationship with customers and having a true dialogue with them.
2. Be able to scale
Handling tens of thousands of conversations, while keeping each one personal looks daunting. Again, technology can help by analyzing incoming questions using artificial intelligence, understanding the tone and urgency, and automatically forwarding onto the best available agent to respond, along with a suggested answer from the knowledge base. By augmenting agents with technology, companies can ensure that they are more productive while boosting the quality of conversations. This approach also ensures consistent service – after all, it doesn't matter if you successfully answer 999 queries out of 1,000 – the unlucky thousandth consumer that doesn't receive the response they want will be upset and may well leave.

3. Think beyond channels
Customers today switch between channels and devices depending on a whole variety of factors, including convenience and location. They want a conversation that naturally flows, starting on one channel and moving to another - without having to repeat themselves, just as in real life.
The ticket approach that splits interactions into different channel silos is therefore simply out of step with consumer expectations. Join up your channels by using a single platform for digital customer experience that brings together the web, email, social media and chat in one place, and ensures that digital conversations are seamless, across every channel and device.
4. Encourage collaboration
In the future, customer experience will be everyone's job, particularly as consumer requests become ever-more complex and difficult to answer. To enable truly meaningful conversations, queries may well need to be routed to subject experts outside the customer service or customer experience team. Ensure that you are able to do this seamlessly and with the same level of management and reporting, whoever responds and whatever department they are based in.
What consumers expect from brands is changing rapidly – and the old-style ticketing system no longer provides the best way of managing the relationship with them. It is time to replace it with technology that is easy to use and personalized to the customer while being fluid and collaborative for the brand. Only then will you be able to have truly meaningful conversations that drive long term loyalty.
To find out more about Eptica's vision for enabling meaningful conversations take a look at our latest video.
Categories:
Agent Knowledge Base, Customer Engagement, Customer Experience, Customer Service, Knowledge Management, Linguistics, Multichannel Customer Service
You might also be interested in these posts: