20 years of ecommerce – and the impact on every business
Published on:
August 20, 2014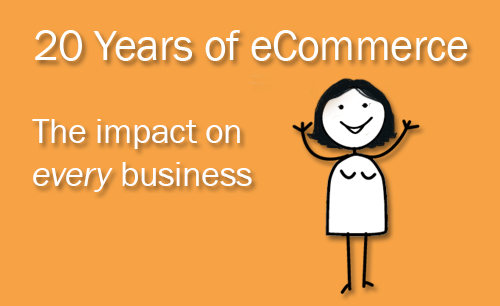 The first secure ecommerce transaction took place 20 years ago when a lucky shopper paid $12.48 plus shipping to buy Sting's album, Ten Summoner's Tales, from NetMarket. From these small beginnings online sales have grown to hit £93 billion in the UK last year, according to IMRG, and are expected to top £100 billion in 2014.
How we shop today is radically different to 1994, changing the retail sector completely and reshaping the competitive landscape. 'New entrants', such as Amazon, have grown to become billion dollar corporations, while many long-established high street names have disappeared.
Aside from the benefits to consumers in terms of greater choice and lower prices, ecommerce has driven 3 major changes that have impacted business, particularly retail.
1. Customers demand more
The balance of power between companies and their customers has shifted. The combination of greater competition and the advent of social media means that consumers can easily switch supplier, as well as share their experiences on social media. This doesn't just apply to retail – customers are demanding more from every organisation they deal with, from utilities and banks to government departments. No matter what sector you are in, you are judged by the same standards as the best performing organisations, so you need to ensure you are benchmarking against them and improving to provide what customers want.
2. The customer experience is paramount
Twenty years ago, the experience received by customers was patchy. Some high street shops were renowned for poor and unhelpful service, but as consumers had little choice, little was done to improve the experience. Indeed, the term customer experience was little known back in 1994. Its importance has developed in parallel with ecommerce, across every channel and sector.
Now, in today's multichannel world, shoppers expect the same, consistently high, levels of service in-store as online, or over the phone. At the same time, the recent recession has focused retailers on better understanding their customers and delivering what they want, no matter how they make contact. The technology and tools are available to empower staff with the right information to provide this, helping to retain customers and build brand loyalty.
3. Integration is vital
At many points over the last two decades experts have predicted the end of the high street, with all retail sales moving to online channels. This has obviously not happened, and with the growth of click and collect services and flagship stores, physical shops have never been more vital. However, what is crucial is that all these channels are integrated to meet customer needs. Shoppers might browse the web on their mobile, place an order through their PC and then pick the item up in a shop or return an ecommerce purchase in-store. Consumers want the ability to switch channels dependent on their circumstances and needs, meaning that retailers need to integrate their operations to ensure a seamless, cross-channel experience that is centred on the customer.
Expect to see equally radical change in retail over the next 20 years, as new channels, and distribution mechanisms, build on the foundations of ecommerce. However, what won't change is the need to focus on the customer - delivering the right experience across the multichannel journey. Organisations in all sectors therefore need to put in place the framework to manage every channel holistically, underpinned with consistent information based on customer needs. By doing this, they will be able to build lasting relationships that increase loyalty and revenues, now and in the future.
Categories:
Contact Center, Customer Engagement, Customer Experience, Customer Service, E-commerce, Multichannel Customer Service, Retail
You might also be interested in these posts: