2013 customer service predictions – did they come true?
Published on:
December 13, 2013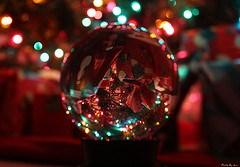 Now is the time of year when everyone looks forward and makes their predictions for 2014. Rather than add my thoughts to this debate, I've taken a look at the views of the great and the good from this time last year – and seen how many have actually become a reality. I've tried to be as extensive as possible in my research, spanning analysts, publications, experts and other software vendors. Totting up their individual predictions the top 5 themes revolved around:
1 Customer Experience
Rather than simply looking at customer service, 2013 was going to be about everyone focusing on the customer experience. There's definitely been progress here, but a lot of customer service teams are still judged by tactical, but important, targets (calls answered, Average Handling Time, First Contact Resolution rates). This means the ability to measure how the customer experience is changing is limited. So, we're not there yet on customer experience replacing customer service.
2 Evolution of Social
Now that social media has moved mainstream, companies were meant to have embraced social customer service. There have been pockets of success where companies have used this channel to deliver fast, personalised service, but in many cases it has been disconnected from the main customer service team, with inevitable increases in costs and a lack of consistency.
3 Mobile
With over half of us now owning smartphones, the mobile customer experience was predicted to be a major focus for 2013. To be fair it has moved centre stage, with consumers demanding the ability to interact with brands on the mobile channel. However, again, progress has been patchy. Our own research found that 52% of consumers said that over half the websites they visited weren't optimised for mobile devices. Users want mobile customer service – companies need to provide it.
4 Growth of SaaS
Like every business, the rise of the cloud has affected the contact centre. And this is one prediction that definitely came good in 2013. We're seeing more and more SaaS-based Eptica deployments, rather than on-premise. Demonstrating the market momentum we've just been accepted onto the UK Government's G-Cloud framework, supporting the move to make the public sector Digital by Default.
5 Central importance of knowledge Simply adding new channels creates new silos of information within the customer service team. As Forrester said in its predictions, knowledge management should be "the jewel in the crown of customer service", underpinning every channel to provide consistent, multichannel service to customers. Again, this is something we're seeing moving up the priority list, with companies, such as Hastings Direct, taking a strategic view of service and building a centralised knowledgebase which can then be used effectively and efficiently across multiple channels. So a mixed bag when it comes to progress on these predictions. To be fair many are long term processes that will never be completed within a single year – as pioneers saw the benefits in 2013, 2014 should widen their impact. Looking through the other predictions I can't resist listing a few of the more unsuccessful ones:
A move to community curated customer service – while some companies have deployed this to help with technical queries, the idea of completely handing over customer service responsibility to the community has definitely not caught on.
The rise of virtual assistants – the replacement of dumb keyword searches with interactive virtual assistants has been superseded by investment in web self-service and web chat technologies.
Video customer service – while there are advantages in agents being able to demonstrate 'how to' fixes using live video, consumers don't yet want to give up their privacy through full scale video conversations with customer service teams. Pre-recorded 'how to' videos that are part of web self-service systems have grown in usage and popularity though as they can be easily accessed 24x7.
Increase in proactive outbound calling. This may be happening in the US, but greater regulation and the British desire for privacy means that brands calling consumers are risking annoying their customers and damaging their reputation.
2013 has been a busy year for customer service, but it is an incredibly disparate picture – the best companies are embracing new technology and moving forward, with others left behind. Let's see if 2014 brings greater improvement across the board.
Categories:
Analysts, Contact Center, Customer Experience, Customer Service, Forrester, Agent Knowledge Base, Marketing, Mobile, Multichannel Customer Service
You might also be interested in these posts: