The 3 capabilities needed to empower customer service employees
Published on:
July 08, 2015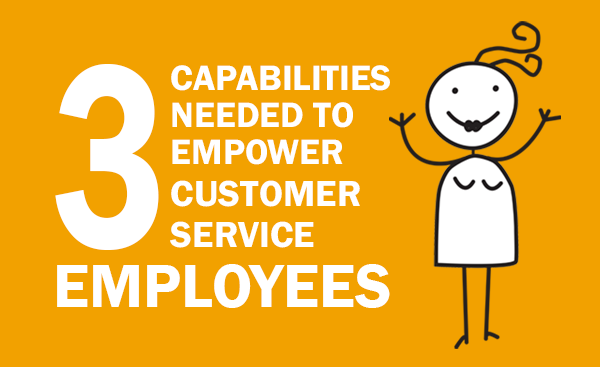 Employees are at the frontline of delivering the right experience to customers. No matter how strong your processes are, customer service comes down to the people who provide it. Staff who fail to show empathy or, even worse, are rude or sound bored risk damaging your brand and hitting customer loyalty. In comparison, agents who go the extra mile, being helpful and engaging will help you develop a reputation for providing a great customer experience.
How can you ensure that every member of staff that comes into contact with consumers, whether customers or prospects, enhances the service they receive? According to Forrester Research, it boils down to providing staff with three capabilities:
1. The ability to access and use information
Consumers call, email or use social media to make contact because they want something from you. It could be solving an issue they have, making a complaint or simply that they require information that isn't immediately accessible on your website. Consequently they expect help, whoever they interact with, across every channel. That means delivering a fast, consistent answer to their question, without needing them to call back.
Companies therefore need to empower agents by providing access to up-to-date, easily understandable information, irrespective of channel. The best way of achieving this is through a centralized knowledge base that is easy for agents to search. To ensure that agents keep using the system, it is vital that it is dynamic, constantly being updated and they have the ability to rate and give feedback on answers. That means improving unclear information so that it best meets both their needs and those of customers, as well as ensuring buy-in from agents to the system.
2. The ability to interact with others as needed
While customers hate being passed from department to department, it is sometimes the best way of ensuring they get the best response to their question. Companies need to make sure they have workflow processes in place to easily escalate queries to the right agent or department, without the need for the customer to redial or re-explain their issue. Customer service is everyone's job, so this workflow has to span the entire organization, not just the contact center, to provide specialist staff (such as branch staff in banks or product marketing managers) with the ability to provide answers to relevant customer questions quickly.
Organizations can take this a step further by automatically analyzing incoming digital interactions (such as email or social media) and then forwarding these onto the best skilled person to provide an answer. This avoids a customer being passed from agent to agent, reducing the time they have to wait for the answer to the enquiry. Moreover, the organization will also have increased efficiency in delivering answers.
3. The ability to change context or location
Companies now have an enormous amount of information concerning their customers. Information stretching from what the customer previously ordered, the devices they are using, location or even the web page they were on when they filled in a form. This data is vital to understand the context of a query. For example, when a customer emails after spending 10 minutes on the checkout page of your ecommerce site, then it is likely that they have a problem that requires immediate attention for them to complete their purchase. Agents need the ability to use this contextual information to deliver a superior customer service.
Additionally, agents need to be empowered with the ability to use their judgment to keep customers happy. Zappos famously allows agents to give away free pairs of shoes to consumers if the situation warrants it. Obviously this isn't going to happen in every customer interaction, but even applied sparingly, it will turn consumers into brand advocates, who are not only more loyal, but evangelize for your brand to friends and family on social media.
Companies won't succeed using these three capabilities alone. They must be backed up by a customer-centric culture, recruitment of people that meet your corporate values and sufficient training to keep staff developing their skills and remaining engaged. Now is the time to look at your own organization – how many of the three capabilities have you made available to your staff?
Categories:
Contact Center, Customer Engagement, Customer Experience, Customer Service, Forrester, Knowledge Management, Multichannel Customer Service, Social Media
You might also be interested in these posts: