3 ways of reducing customer query volumes
Published on:
October 20, 2015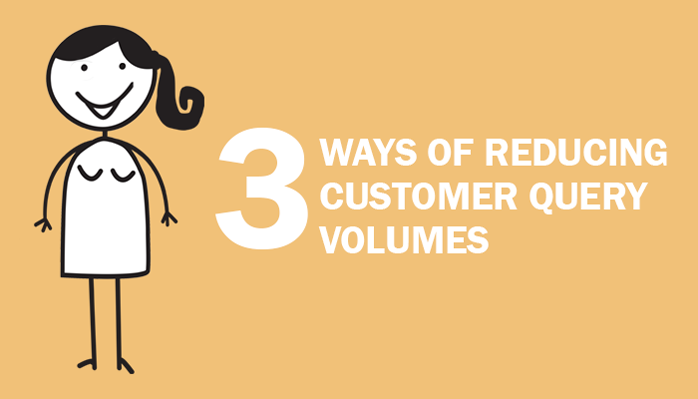 Consumers are sending an increasing number of questions to companies, across more and more channels. This rising volume of customer interactions, covering everything from questions about products and post-sales queries, to complaints and positive feedback, threatens to overwhelm many organizations.
The numbers are vast. Over 1 million people view tweets about customer service every week, and 206.6 billion emails are sent and received every day. Add in other channels such as Facebook and chat, and not forgetting the telephone, and you can see that even a medium-sized business is potentially receiving 250,000 emails every year, with a corresponding number of contacts through Twitter, Facebook, and the telephone. Altogether this can mean providing quick, accurate and personalized responses to close to 1 million questions annually.
So how can organizations cope with this tidal wave of questions? Here are three areas to focus on:
1. Deflect what you can using self-service
Many customers don't have complex questions and just want to find out key information before they make a purchase. The majority of these answers can be provided successfully through intelligent self-service systems on company websites. These allow consumers to ask questions in their own words and receive fast, accurate responses that provide a clear, straightforward answer. This means they don't need to pick up the phone, send an email or use social media to make contact so it improves service levels and efficiency at the same time. This, in turn, makes it possible for customer service agents to spend their time dealing with the more complex queries that require greater human intervention.
Companies should also analyze the questions that customers are asking and use the results to improve their processes and content. For example, if there is a spike in queries at particular parts of the customer journey, companies can look at how they re-engineer the process to make it simpler, reducing the need for support and improving the experience.
2. Empower your agents with automation
Helping agents to deliver a better, more consistent service is central to increasing their productivity and morale, and consequently deepening engagement with customers. It is therefore vital to empower them with the tools they need to get their job done efficiently. Providing access to a centralized knowledge base that is constantly updated with the latest answers to questions should give them the information they need to respond confidently to customers over the phone. Workflow that analyzes incoming queries and automatically routes them to the best available agents, along with a suggested template answers, also reduces handling times, while linguistic technology that analyzes the tone of a message and prioritizes it accordingly also helps agents to engage better with customers.
The key point is to balance technology and the human touch – agents aren't robots, so it is important to give them the ability to personalize responses so that they best match customer needs and improve the overall experience.
3. Weed out the duplicates
We all know that customers are unwilling to wait a long time for a reply. This means that if they don't hear back concerning a question they have emailed to you, they may well email again, or switch to other channels such as Twitter or Facebook. There are two consequences of this – customers become more and more annoyed and contact centers are overwhelmed by even more queries, many of which are simply duplicates. Even worse, this means a customer might receive multiple responses from different agents, pushing up costs while bombarding the customer with lots of answers.
To avoid this, companies need to be clear that they have received incoming queries, provide a realistic timeframe for an answer, and of course, deliver fast responses wherever possible. Additionally, they should make sure they are taking a customer-centric view of service, grouping together interactions from the same consumer so that they can be dealt with effectively in one go, even if they span multiple channels. That way duplicate questions can be weeded out easily, reducing the load on the contact center while helping improve the customer experience.
Dealing with the growing volume of customer queries is not easy – as the number of questions continues to rise, so does the range of channels used to send them, while customer impatience means expected response times keep falling. What is needed is a combination of smart technology and well-trained, productive staff to ensure that customers receive fast, accurate service that is personalized to their individual needs.
Categories:
Agent Knowledge Base, Contact Center, Customer Engagement, Customer Experience, Customer Service, Knowledge Management, Linguistics, Multichannel Customer Service, Self-service, Social Media
You might also be interested in these posts: