The 4 factors driving customer impatience in financial services
Published on:
June 10, 2015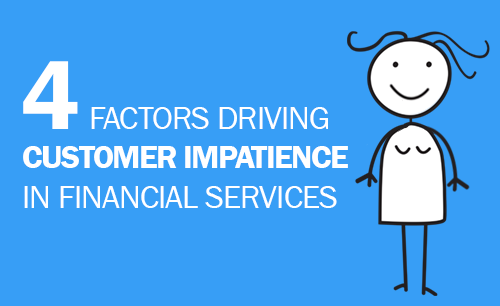 Across the financial services industry, providing a tailored, high quality customer experience is becoming vital for success. Whether a retail bank, insurer or provider of investment products such as pensions, organizations have to make the customer journey clear, seamless and easy to understand if they want to win and retain clients.
The old model of a customer signing up to a bank for life or automatically renewing their car insurance every year has changed, and the balance has shifted away from providers to consumers. There are four key reasons driving this:
1. Empowered customers
Consumers now have access to a huge amount of information online to help them with their financial services purchasing decisions. From comparison and advice sites to social media, it is very easy to find out about different products in the market, their costs and even to read reviews about the service that organizations offer. This means that customers will no longer put up with a customer experience that is second best – they will simply vote with their wallets and move elsewhere.
2. The end of the special relationship
30 years ago consumers had a great deal of respect for their banks and other financial services organizations. But this has changed in many cases. The financial crisis, misselling scandals (such as around PPI in the UK), and the move online has changed the relationship completely. Most people no longer know who their personal bank manager is, let alone speak to them regularly.
3. Social media enables easy complaints
Social networks such as Facebook or Twitter provide a quick, simple and very visible way of complaining after a bad experience. Issues raised by angry customers can easily go viral, or be picked up by mainstream media in minutes, further eroding faith in the financial services industry.
4. Increased regulation and a push for greater competition
In part due to past misselling cases, governments around the world are tightening regulations to hand more power and information to consumers. New laws, such as the UK government abolishing the need to take out a pension annuity, can change long standing markets overnight. Regulators are encouraging increased competition, with rules that make it easier to switch provider, such as in the banking sector.
All of these trends are accelerating the importance of the customer experience. Yet, many financial services organizations risk being left behind. Eptica's Multichannel Customer Experience Study found a growing chasm between best and worst when it came to the customer experience provided by banks and insurance companies:
Just 10% of banks were able to respond satisfactorily to a question emailed to them – compared to half of insurance companies. In contrast, 80% of electronics retailers successfully answered an email question.
Banks fared much better on the web, answering 91% of questions asked. Insurers were bottom, scoring just 40%, marking a drop in performance since 2014.
Insurers also fared badly when it came to social customer service. Only 30% successfully answered a tweet sent to them, with a wide range of response times. One replied in 9 minutes – yet another took over 43 hours.
Banks also struggled with Twitter. 60% responded to a tweet – all within 21 minutes. However, showing that speed isn't everything, only one provided a full answer to the question, with three giving partial answers, meaning that a consumer would need to re-contact them through another channel for the full answer.
To help the sector improve and to share best practice, Eptica will be attending The Next-Level Customer Experiences & Insights Financial Services Conference. Taking place on June 23rd, 2014, it features speakers from leading financial services organizations who will discuss topics such as tailoring the customer experience, building customer-centric organizations and adapting to the changing regulatory landscape. Given the great variation in performance that our research uncovered and the increasing pressure from consumers, now is the time for financial services organizations to focus on the customer experience if they want to build loyalty with consumers and thrive in the long term.
Categories:
Banking, Customer Engagement, Customer Experience, Customer Service, Finance, Insurance
You might also be interested in these posts: