6 Top Trends Driving Customer Expectations
Published on:
August 27, 2014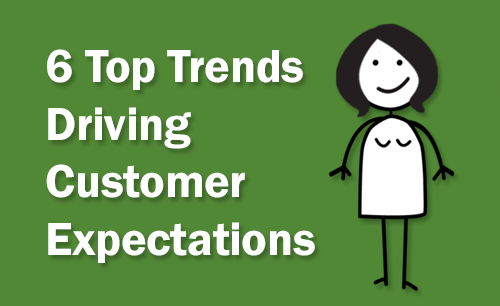 Every business understands that today's customers are demanding more – and are happy to move to the competition if they don't receive what they are looking for. However, breaking these demands down into specific areas can be difficult, so those involved with customer experience should take a look at a recent Forbes blog post by customer service expert Micah Solomon as it gives more detail on 10 areas where companies should focus on fixing problems.
Many of these echo what we hear at Eptica when talking to our customers as well as our own research in the recent Eptica Multichannel Customer Experience Study of 100 top UK brands. Looking through Micah's top 10, I've picked 6 areas which reflect exactly what we are seeing in the market:
1. Speed is critical
Customers want answers to their queries delivered in near real-time, with expectations rising continually. Yet when we analysed companies in the Eptica Multichannel Customer Experience Study the average time to answer an email was 61 hours and 39 minutes (nearly three whole days), while the average response time for Twitter was 8 hours and 37 minutes. This doesn't mean it isn't possible to reply quickly (and accurately) – the fastest response time on email was 7 minutes and for Twitter just 4 minutes. If you don't improve speed of response, chances are that your competitors will.
2. Accuracy is paramount
Misspelt emails or incorrect, inconsistent information are not acceptable to consumers. Companies need to join up systems and centralise information to ensure that not only do they deliver fast answers but that they are accurate. Again, the Eptica Study found a lack of consistency – just 1 in 8 companies provided the same answer to an identical question asked across 2 channels.
3. Customers are happy to help themselves
Driven by a desire for speed and control, customers are increasingly keen to find out information for themselves or update their own details without needing to call or email. Web self-service software has been deployed on 55% of the top 100 brands we researched, helping customers to help themselves. This boosts satisfaction levels, reduces the load on the contact centre and increases efficiency at the same time.
4. We live in an 'always-on' world
Customers want information or a response NOW, rather than within office hours. This is a challenge to many companies who may lack the resources to staff contact centres or social media monitoring teams 24x7. However, using technologies such as web self-service can help by providing answers to customers at any time, day or night, minimising the number of employees that need to be working out of office hours.
5. Being multichannel is vital
The typical customer journey spans multiple channels and consumers don't expect to have to repeat themselves or re-enter information if, for example, they move from the web to email. Technology needs to join up channels to give a consistent experience and create a single customer record that can be accessed by agents however consumers choose to contact you.
6. Customers expect you to notice
Customers want to be valued – and that includes listening to what they say about your brand, products and service. Whether they comment on social media, blogs or the web, they expect you to pick up on their words and respond quickly and helpfully. This means that you need to be on the same social media channels as your customers – yet, for example, the Eptica Multichannel Study found that just 76% of companies were on Twitter.
All of these trends (and the other 4 in Micah's top 10) stem from the fact that customers are both now more demanding and more empowered than ever before. They want more and are unafraid to either complain or switch supplier if they don't get what they want. Companies therefore need to focus on delivering the right experience, right now, if they are to retain customers and grow their revenues.
Categories:
Contact Center, Customer Engagement, Customer Experience, Customer Service, Email Management, Agent Knowledge Base, Multichannel Customer Service, Self-service
You might also be interested in these posts: