7 ways to annoy your customers
Published on:
November 28, 2012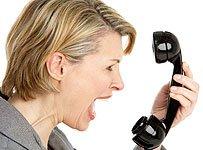 Today, the customer really is king. The combination of ever increasing competition and greater customer expectation mean you need to deliver higher and higher levels of service, whatever sector you operate in.
And, to be fair, most organisations understand the importance of customer service but many are failing to deliver what consumers actually want. This could be down to a lack of budget, not listening to customers, poor infrastructure, incomplete strategy or a mixture of all of these.
So what is that really annoys customers and causes them to complain or take their business elsewhere? Based on Eptica's experience we see seven ways that companies are letting down their customers:
1. Information unavailable on the web
For the majority of consumers, the web is the first place they turn when looking for information. Yet as our own Eptica Multichannel Customer Experience Study found many websites simply aren't providing basic information online. On average, the websites of 100 leading UK companies could only deliver answers to 53% of questions asked online – with some organisations managing to successfully respond to just a single question. And it isn't just about having the information on your website, it needs to be easily accessible. Technologies such as web self-service allow customers to ask questions and receive fast, accurate answers to their enquiries, avoiding the need to call or email.
2. No response to customer email
Many customer emails seem to disappear into a black hole, never to resurface. This hardly inspires confidence in a brand and will simply result in customers taking their business elsewhere. Make the email process simple and straightforward – acknowledge incoming emails from customers so they know they have been received and then give a timeframe for responding. Make sure you then stick to this – the Eptica Multichannel study found that just 39% of companies provided a timescale for answering, but that many then failed to meet their own deadlines.
3. Difficult to find customer service contact details on the web
If a customer has a query or complaint it is vital that they can get in touch with you. Otherwise they'll simply move elsewhere, and in an era of social media share their bad experience with the world. Yet many companies seem to hide their customer service contact details on their website. This is bound to intensify the anger of customers and for many industries, such as retail, it is a legal requirement (under the Distance Selling Directive) to provide accessible email and telephone details. Make it simple for consumers to get in touch with you through clear links to multichannel contact information that is very visible on your website.
4. Long hold times when calling your contact centre
Being stuck in a telephone queue is an experience that will annoy even the calmest of customers, and is guaranteed to further upset anyone calling to make a complaint. There are multiple ways to reduce hold times, including increasing agent productivity and providing information through other channels, such as the web. Are there any operational issues (such as dealing with disparate IT systems) slowing down the speed at which agents respond to calls – and can they be fixed? Do you need to employ more agents at peak times to deliver improved service?
5. Different agents provide different answers to the same customer
Consistency is vital if you are going to treat customers fairly. You need to ensure that your staff are giving the same answer whatever channel customers come through – phone, email, social media or face to face. This can only be achieved by providing access to a consistent, centralised source of knowledge that underpins all your customer channels. Design your knowledgebase system to meet the needs of all your customer facing staff and make it simple to use and you'll be able to deliver a consistent experience to all customers.
6. Poor first time resolution
Having to contact a company more than once frustrates customers immensely. So look at how you can increase first contact resolution rates. Give your agents access to the right information so they can provide accurate, fast responses and make sure these answers are straightforward – avoid jargon and complex terminology that is difficult for your customers to understand. All of this will help resolve queries at the first time of asking.
7. Customers prevented from using their channel of choice
We live in a multichannel world and customers don't want to be forced to switch channels just because it is more convenient for your organisation. Make it easy for them to contact you through social media, web self-service and chat so that they receive fast answers to their questions rather than simply forcing them to email or call the contact centre.
The good news for organisations is that the technology is there to help remove all seven of these annoyances. Businesses need to look at centralising knowledge and using it to underpin all of their customer service channels and delivers consistent answers however people make contact, if they want to turn annoyed customers into brand advocates.
Categories:
Contact Center, Customer Service, E-commerce, Agent Knowledge Base, Multichannel Customer Service, Self-service
You might also be interested in these posts: