7 ways banks can transform customer experience
Published on:
November 13, 2015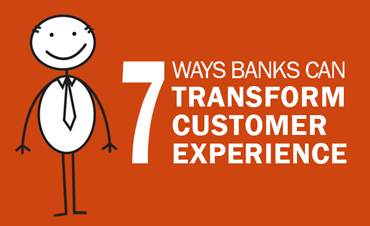 Banks and other financial service providers are facing unprecedented challenges. Not only are regulatory pressures increasing, but a new wave of financial start-ups is entering the market, using technology to transform everything from loans to payment processing.
Whether it is new branch-based banking (such as Metro Bank in the UK), different ways of raising finance through crowdfunding sites such as Funding Circle and Kickstarter, or providing small business loans (Kabbage), many of the traditional activities carried out by banks are being targeted by newer competitors. These companies are often built on innovative technology that means they can carry out transactions faster, smarter and more efficiently, than rivals, while delivering a superior customer experience. For example, Kabbage can approve a small business loan in 7 minutes while Dutch bank Knab sets up new current accounts in just 5. In comparison traditional providers can take days and weeks to carry out the same processes.
Much of this discrepancy is down to the sheer size of major banks, and the fact that technology and processes has built up over time, making it difficult to react quickly. However, with competition increasing, they need to focus on customers, and specifically the customer experience, if they are to continue to thrive and overcome the newcomers.
Consultancy firm McKinsey found that changing the experience from merely average to something that wows the customer can increase likelihood to renew or buy new products by between 30-50%. To help banks achieve this it has identified seven areas where they should look to deliver breakthrough customer experiences:
1.Building empathy
Banks already know a great deal about their customers, but they need to go beyond financial details to understand what makes them tick, and show that they value their business. According to McKinsey, this could be achieved by co-designing new services with customers, or studying their lifestyles and creating products to suit. Empathy has to become part of every interaction – for example using linguistic technology to understand what customers are feeling when they communicate digitally allows agents to provide a tailored, personalized and empathetic response.
2.Deliver an end to end experience
The customer journey can span multiple departments, particularly in regulated industries such as financial services. If each part of the journey is treated in isolation, within a departmental silo, customers will receive an uneven, potentially contradictory experience. Joining this together, and understanding how and why customers make enquiries and move from research to purchase (and beyond) requires teams to work together holistically. Ensuring information is shared between departments, as well as providing consistent answers will ensure that customers feel your organization is truly connected.
3.Reinvent don't just improve
Today's consumers expect companies in all industries to be continually improving their products and the customer experience that they offer. To wow them banks need to take a step beyond tweaking processes, valuable though this is, and also consider launching new offerings and ways of doing business that meet changing customer needs. McKinsey recommends taking inspiration from other industries, such as retail, and bringing in fresh thinking in order to reinvent the experience that banks provide.
4.Rewrite the rules
Financial services companies operate in a tight regulatory environment, with mandatory compliance steps in many processes. Obviously businesses need to follow rules, but also need to look at the objectives behind them – can they be met in different ways? Is it possible to achieve the same result while still improving the customer experience?
5.Become agile as an organization
As large users of technology, many banks have adopted the idea of agile development when it comes to software and digital projects. To succeed in a rapidly changing market, they need to be equally agile when it comes to the customer experience, trying new things quickly, evaluating the results and then deciding whether to proceed further. Involving customers and obtaining their feedback is an important part of this process.
6.Constantly improve
Reid Hoffman, founder of LinkedIn once said, "If you are not embarrassed by the first version of your product, you've launched too late." And while no-one is suggesting that banks rush out half-built products and services, they do need to constantly improve the experience when they are in the market. This means focusing on activities such as A/B testing, evaluating customer satisfaction metrics, and acting quickly on feedback to drive improvement.
7.Work as a team, not a silo
As mentioned above, the customer experience spans multiple teams and departments. However from the customer's point of view, they don't care about this – they want a superior experience, rather than being told that something is dealt with by another department. Customer hubs, teams which bring together employees with different skills, are a great way of embracing this style of working. Simply sitting people in the same area can break down barriers and improve service. For example, when Wells Fargo bank located its in-house lawyer within its social command centre, it enabled all outgoing tweets and Facebook messages to be vetted legally much quicker than before. In fact, Wells Fargo is now ten times faster at responding on social media than any other financial services brand.
Traditional banks need to focus on the customer experience if they are to meet the challenges of greater regulation and increased competition. However, they also have to ensure that they are continually improving and innovating if they are to thrive – such is the pace of change that an excellent customer experience is quickly seen as average by consumers at which point they may start to look elsewhere for their banking needs.
Categories:
Banking, Contact Center, CRM, Customer Engagement, Customer Experience, Customer Service, Finance, Insurance, Linguistics, Multichannel Customer Service
You might also be interested in these posts: