Ageas scoops two FST industry awards for multichannel customer service
Published on:
April 14, 2011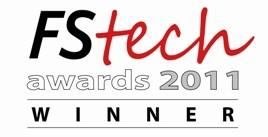 Ageas Insurance Solutions (AIS) has won not one, but two, prestigious Financial Sector Technology (FST) Awards for its successful Ageas eStream service transformation project, powered by Eptica technology. Best Use of IT in Insurance and Best Use of CRM technology were both awarded to AIS in recognition of the way it has transformed its multichannel customer service.
Core to the eStream project, Eptica has enabled AIS to integrate its multichannel service interactions such as email, telephone, web and white mail (fax and letters) into a single Eptica-powered system. Additionally, AIS customers can now also manage an increasing number of their own service questions and insurance transactions online which has led to an improved customer experience, greater efficiency and delivered very significant return on investment benefits.
Since implementing eStream in 2010, AIS has seen far reaching benefits across both customer service and its overall business:
300,000 customer enquiries have been resolved using the system, with sales transactions accounting for 51% of the total traffic;
Customers can now easily find the information they want online. As a result calls to the contact centre have plummeted by 23%;
Average enquiry handling time has been halved, enhancing the customer experience and freeing up AIS agents to focus on higher value activity;
Just 1.7% of customers using eStream go on to submit a query by email;
First Contact Resolution rate has soared to 95.8%;
Recovery of monthly outstanding payments has increased by 11% ;
eStream has delivered a 50% increase in efficiency and ROI within six months.
Managing customer service across multiple channels can be extremely complex. Ensuring customers receive a response in the channel of their choice while keeping information synchronised requires powerful workflow and intelligent technology.
Congratulations to the AIS team!
Categories:
Contact Center, CRM, Customer Service, Email Management, Finance, Multichannel Customer Service, Self-service
You might also be interested in these posts: