Are insurers embracing social customer service?
Published on:
November 14, 2016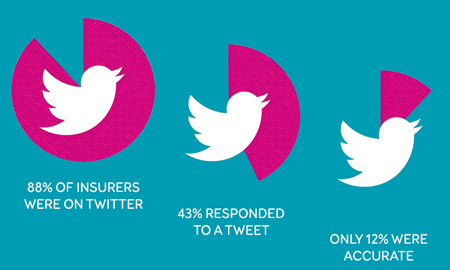 Providing customer service through social media has multiple advantages for both consumers and companies. Customers want the convenience and simplicity of being able to contact companies through Twitter and Facebook, without needing to call or email a business. Done well, social customer service also benefits brands. It is up to six times cheaper than the telephone, and provides an opportunity to engage with consumers and humanize the company through one to one conversations. For example, a mobile network carrier researched by McKinsey reduced call volumes by 20%, lowered costs and increased its Net Promoter Score. According to Twitter companies using its platform for customer service see a 19% increase in satisfaction.
However, get it wrong and the eyes of the world will be on you. Fail to answer, respond slowly or fail to take a query seriously and it can have major brand ramifications. Gartner estimates that failing to respond on social media can lead to a 15% churn rate among existing customers – and that ignores the wider impact on potential customers or overall brand.
Insurers and social media
Given its importance, how are companies faring? As part of the recent Eptica Insurance Multichannel Customer Experience Study, 100 leading U.S. insurers were evaluated on the speed, accuracy and consistency of their responses on social media. At the same time 1,000 consumers were polled on the speed of reply they expected on Twitter and Facebook and the two sets of figures were compared. Looking at the research there are five clear conclusions:
1. Insurers understand the importance of social media
88% of companies had a Twitter handle and 84% were active on Facebook. This shows that insurers are actively trying to engage with consumers on social media. However…..
2. Processes are failing to deliver
While insurers are on social media, there are too many gaps in their processes. Just under half (43%) of companies answered a tweet, meaning that 45% simply didn't respond. That's nearly half of consumers left annoyed at not getting a reply – either driving them to publicly complain, switch to another, more expensive, channel or simply move to a competitor. Facebook was slightly better, with 53% of companies responding, leaving 31% of messages (still nearly a third) unanswered.
3. Knowledge is lacking
Not only did large numbers of insurers not respond on social media, but even those who replied often failed to give a satisfactory answer. Only 12% of tweets, and 23% of Facebook messages, actually answered the question. At every step of the process, customers are falling through the gaps, meaning that the vast majority are forced to find information elsewhere.
4. Speed doesn't match customer expectations
If you want a fast, accurate response, Facebook easily beats Twitter. Not only did the channel provide nearly double the number of correct answers (23% vs 12%), it also replied almost twice as fast, at just under 5 hours, compared to over 8 for Twitter. However, very few responses were fast enough to meet customer expectations – 64% expect a Twitter response in an hour, and 56% want an answer on Facebook in the same timeframe. Under a 1/3 met this deadline on either channel. There's a mismatch between service levels and what insurers are delivering, and this will only worsen as consumers become ever-more demanding.
5. Performance is patchy
The 100 insurers were spread across ten different sectors, and performance varied dramatically on social media. Topping the charts, 45% of dental insurers successfully answered on Facebook, and 30% of extended warranty insurers responded helpfully on Twitter. Travel and life scored zero on Twitter, with travel also failing to answer any Facebook questions. Showing that even the best sectors have areas for improvement, pet insurance (which topped the overall Eptica study), successfully responded to just one query on Twitter – even though eight companies offered the channel.
Social media is increasingly vital to insurance customer service, but too often messages are falling through the gaps and are either not being answered, or are receiving responses that will force consumers to switch channel. This failure to enable meaningful conversations will hurt insurers moving forward, with customers voting with their wallets and switching to more responsive and helpful rivals.
You might also be interested in these posts: