Being TRUE to your customers
Published on:
August 15, 2014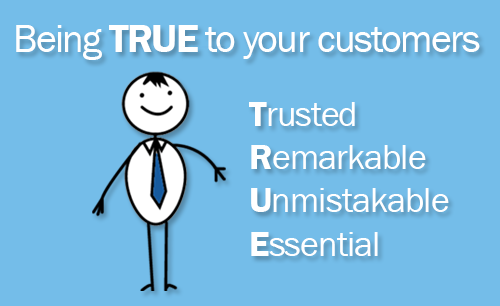 In increasingly competitive markets, customers look for experiences that match their expectations and needs. Essentially this means that as consumers continue to become more savvy at researching and comparing brands, companies need to realise that when it comes to customer experience, they need to create a brand promise and deliver on it. After all we live in a world filled with technology-empowered consumers who have access to more information on brands than ever before.
It is worth remembering that creating a customer experience that delivers is not just the preserve of luxury or elite brands. For example, the top 100 UK brands for customer experience, ranked by customer experience consultancy, Nunwood, includes everything from airlines and department stores to discount supermarkets – all of whom succeed in delivering on their brand promise.
A recent Forrester CX Forum highlights the attributes that brands require if they want to generate brand resonance in today's markets. Forrester call their methodology the TRUE Brand Compass Framework, in which TRUE stands for Trusted, Remarkable, Unmistakable, and Essential:
Trusted: because companies need to earn trust from consumers by being transparent and accountable
Remarkable: because by doing things differently in a way that disrupts the market inspires consumers to talk about companies
Unmistakable: because companies should strive to be the one and only at doing things the way they do them
Essential: because companies should try to become irreplaceable in the lives of their customers
So how can a company become TRUE? There are three parts to delivering an excellent customer experience that supports the brand:
1. Culture To begin, an organisation needs to create a corporate culture that supports the brand. For example at Mercedes USA , which operates through 362 franchise dealerships in the USA, the company worked to ensure that all staff fully understand the brand and what it stood for. All employees had the chance to drive Mercedes models and were invited to visit the company's factories to see the quality standards it followed and wanted to extend to dealer staff. "Customer experience follows employee experience," according to Steve Cannon, president and CEO of Mercedes Benz USA, "and that's why you've got to start in your own buildings, folks".
2. Staff Customer service staff are also central to delivering a positive customer experience. Firstly ensure you have the right employees in place, secondly that they have been trained to understand your brand, and finally that they have the skills for their role. For example, some agents have strong verbal skills so need to be working on voice-based channels, while others fit better on written channels, such as email and social media.
3. Tools Staff, no matter how motivated, can't give consistently high levels of service without access to the right tools and information. Customer service employees need to be supported by a system that integrates information and knowledge into a single repository that underpins all customer interactions across multiple channels. Centralising knowledge raises customer satisfaction, ensures consistency and increases First Contact Resolution rates. In fact, Forrester calls knowledge management "the jewel in the customer service crown".
The user experience (UX) of the customer service agent is therefore critical to the customer experience (CX). The systems that customer service agents use must be simple and intuitive to operate, providing them with the tools to access information in an efficient, consistent and fast manner.
Consumer expectations of brands are continually increasing. In many sectors there is little to differentiate between similar products, meaning that the customer experience can make the difference. Companies must therefore strive to be well-positioned on the Forrester TRUE Brand Compass, have employees that truly 'buy-in' to the brand promise and well trained customer service teams equipped with the tools to service consumer needs.
Categories:
Contact Center, Customer Engagement, Customer Experience, Customer Service, Forrester, Agent Knowledge Base, Multichannel Customer Service
You might also be interested in these posts: