The Changing Face of Customer Technology
Published on:
September 03, 2014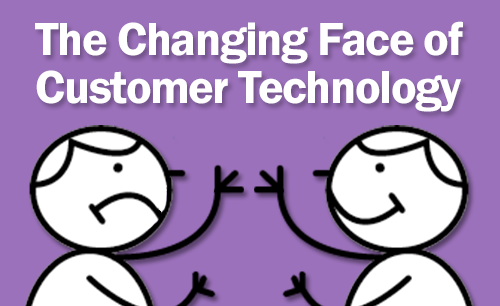 From the contact centre to the web and mobile, technology is central to how organisations interact with their customers to deliver an enhanced experience. Consequently it seems hard to believe that the Customer Relationship Management (CRM) software market is now over 20 years old. The appetite for CRM software remains as healthy as ever. According to Gartner it is growing at an impressive 13.7% globally, and is worth currently worth $20.7 billion in annual revenues. What is driving this growth is obvious – an insatiable appetite within organisations to better understand customers and do whatever is necessary to attract and retain their business.
It's easy to forget just how much CRM technologies have changed in the last two decades. As Kate Leggett of Forrester points out CRM originally started out by tackling operational efficiencies. It aggregated customer data, analysed it and automated workflows to optimise customer engagement processes. By reducing marketing costs, decreasing service resolution times or boosting sales pipeline visibility, companies could claim an ROI from their CRM investment. Modern CRM tools build on this heritage and now focus on enabling good customer experiences that meet customer needs. With far more interaction and transaction data available than ever before, CRM is now about delivering contextual experiences that add value to the customer over a range of social, digital and mobile channels.

Integrating the experience
Therefore there is now a need to bring customer experience and customer engagement together like never before. In particular, this means integrating CRM and the contact centre into a single architecture that is flexible, adaptable and scalable to meet corporate needs. This is why Gartner believes that organisations are moving to 'Customer Engagement Centers' (CEC) where technology and business applications are engineered to provide customer service and support, regardless of the interaction (or engagement) channel. In the CEC environment Gartner argued there are 5 things that CRM can do better:
Mobile – delivering a tailored experience and support to consumers using tablets and smartphones.
Empowering agents with the right context around particular interactions.
Arming agents with correct, consistent information to meet customer needs.
Providing an improved, more intuitive, web experience for site visitors.
Giving agents the ability to listen to customers on social media and engage with them more easily.
At Eptica, we believe there are 8 technology areas to focus on when building an integrated customer engagement solution:
Open. APIs must enable organisations to link to external and existing systems and share information seamlessly to integrate operations.
Flexible. Technology should have the option of being deployed in the cloud, as well as on-premise, to give flexibility and scalability.
Scalable. Digital interactions are increasing rapidly, so technology has to be able to cope and be simple to extend to new channels as needs change.
Easy to use. A good user experience for agents cuts training costs and means they'll be able to deliver the best possible customer experience.
Easy to maintain. If the system is simple and easy to update, efficiency is increased and staff time is freed up to concentrate on helping customers.
Driven by knowledge. Systems built on a single, centralised knowledgebase that underpins all channels are the only way to ensure consistency and efficiency.
Workflow. Increasingly the whole organisation is involved in the customer experience. Software therefore needs to have the ability to route interactions across the company to provide a seamless, joined-up experience for the customer.
Analysis. Techniques like linguistics can play a vital role in better understanding customer interactions by providing a richer view of what customers are really looking for when engaging with an organisation. This can also add to an organisation's Big Data and Voice of the Customer programmes and provide long and short term analysis of customer demands.
From tablets to smartphones, customers today rely on technology as never before. Only those organisations that similarly empower themselves by integrating CRM, contact centre and customer engagement technologies can hope to understand their needs and keep one step ahead in highly competitive markets.
Categories:
Contact Center, CRM, Customer Engagement, Customer Experience, Customer Service, Forrester, Gartner, Linguistics, Multichannel Customer Service
You might also be interested in these posts: