Comparing the retail customer experience in the United States and United Kingdom
Published on:
November 11, 2015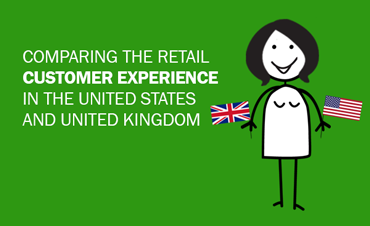 Thanks to the internet, retail is a global industry, with companies now facing competition from peers around the world. As we've discussed before, this means that a focus on the customer is vital – with businesses needing to understand what consumers want and provide them with a tailored experience that meets their exact requirements. At the same time as the internet has enabled global competition, it also provides retailers with the chance to learn from businesses in other countries. Essentially they can improve their experience by reviewing how other people operate and applying best practice.
Given this competition how do retailers in Britain and the United States compare? Having just launched the 2015 Eptica Multichannel Customer Experience Study, which evaluated 500 American retailers, we can compare the findings with UK research carried out earlier in 2015, using the same methodology, across similar channels. In both cases Eptica researched retailers on their ability to provide answers to 10 routine questions via the web, as well as their speed and accuracy when responding to email, chat, and Twitter. For the United States, Facebook was also evaluated as a customer service channel. Across all channels, questions were deliberately similar to those that consumers ask, such as around next day delivery, returns policies and order tracking.
1. USA beats UK on email
The biggest difference between the countries concerned email. For many consumers this is still the digital channel of choice if they have a query or complaint. Yet, while retailers in the United States seem to understand this and put the right resources in place, those in Britain are slipping behind.
Nearly three quarters (73%) of emailed questions were answered by US. retailers – against just 58% in the UK. The performance gap was even more visible when it came to response times – US retailers answered in an average of 7 hours 51 minutes – it took UK companies 43 hours 52 minutes! That is over 5x longer on average.
To uncover the reasons for these big differences it is worth taking a step back and looking at how retailers are resourcing email. 99% of US (and 98% of UK) retailers provided an email address to non-customers, but then the picture changed. Only 73% of British retailers actually replied to an email, with 15% of these failing to successfully answer the question. This led to the final figure of 58% of retailers providing an accurate response
In contrast, 81% of US retailers replied, with just 8% failing to answer the question successfully, leading to the final 73% response rate. More UK retailers are falling at each step in the process, showing they have much to learn from across the Atlantic.
2. UK top for social media
The Eptica UK research did not cover Facebook, but both studies evaluated Twitter, with UK retailers the clear winner, even if they failed to answer more than half of queries. When tweeted a question to their specified Twitter handle, 43% of UK retailers responded, answering in an average of 4 hours 5 minutes. In comparison just 20% of their counterparts across the pond could provide an accurate answer, and the average response time was over 31 hours.
In the US there was a catastrophic drop between the number of companies that offered Twitter (87%) and the number than actually responded (25%). As 5% of these failed to provide a satisfactory answer, this led to the final figure of 20%.
The ironic point is that researchers asked the same question (around cut off times for next day delivery), on the Twitter and email channels. This shows a lack of integrated, joined-up thinking inside US retailers – they can answer a question sent on email, but fail to respond to the same one when it is sent via Twitter. Sharing knowledge and resources will help improve social customer service, while also ensuring greater consistency.
3. Dead heat on the web
The one area where all retailers scored equally was when providing information online, via their websites. In both countries, they answered an average of 65% of questions. However this masked big differences between retailers. In the US 34% of companies scored 80% or above, but 25% could only answer 50% or fewer queries. UK retailers showed a similar spread – 20% of companies scored 90% or more, while 33% answered under 50% of questions. This shows that poor performing retailers should look at – and learn from – their peers, if they want to improve.
4. Chat – under resourced on both sides
Chat seemed to be a missed opportunity on both sides of the Atlantic. While fast and accurate (4 minutes and 28 seconds in the US on average), the majority of retailers that claimed to offer it, did not have it working when surveyed. 25% of UK retailers, and 51% of US ones, advertised chat but then only 5% and 35% respectively were able to answer through this channel. In comparison, this means that 7x as many US retailers were able to respond on chat – something that UK peers should work to address.
Taken together, the US and UK research shows that retailers in both countries need to learn from each other. In some areas the US is strong (email and chat), yet in others (Twitter) it significantly lags behind retailers in Britain. In an era of increasing international competition the winners will be those companies that successfully deliver a joined-up, consistent experience across every channel.
Categories:
Chat, Contact Center, Customer Engagement, Customer Experience, Customer Service, E-commerce, Email Management, Multichannel Customer Service, Retail, Self-service, Social Media
You might also be interested in these posts: