Delighting your customers through getting the basics right
Published on:
August 22, 2014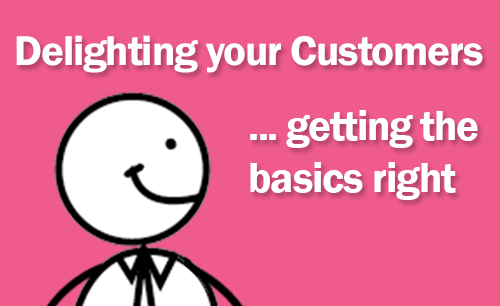 There are lots of stories about companies that have delighted their customers. Take Sainsbury's renaming its Tiger Bread based on feedback from a three year old girl that it looked more Giraffe-like or US restaurant Morton's Steakhouse delivering a meal to an arriving passenger who tweeted, asking to be met by a porterhouse at Newark Airport.
Examples like this are undoubtedly good PR and can really humanise a brand for the wider market. However it's the more prosaic day to day treatment of a customer which ultimately makes the difference in highly competitive markets. As an article in the Harvard Business Review argues, consumers switch suppliers because of terrible service as soon as they can. Whether it is an airline losing their bags, a utility with long hold times, a retailer that is rude or a delivery that fails to turn up when they wait in, customers will increasingly use their power to move to a competitor.
That's not to say that customers don't want to be delighted, but as Forrester points out, it's more important for them to feel their time is valued. In a recent study by Forrester, 77% of consumers said that valuing their time is the most important thing a company can do to provide them with good online customer service, significantly up by six percent from 2012.
Customers want every interaction to be smooth, clear, seamless and fast. This means that efficiency and consistency should be the first goals. 'Delight' can then follow as a potential added bonus. However this is often easier said than done given the scale of customer interactions, across more and more channels. So what do companies need to do? Rather than focusing on delight, it should start with getting the basics right and making the process of ordering or interacting with a company as effortless as possible.
Forrester points to 4 steps that can make the difference.
Invest in making it easy for customers. Simply installing technology such as web self-service and virtual agents is not enough. Companies need to look at best practices to keep content relevant and straightforward, helping customers to get what they need with minimum effort.
Build a multichannel platform. 69% of US online consumers want to be able to move between virtual and physical customer service channels, without needing to repeat themselves.
Standardise the experience across channels. Ensure that every customer interaction, irrespective of media type, is queued, routed, and managed in the same manner and with access to the same information for consistency.
Help your agents help customers. Give agents all the information they need (such as access to customer records) so that they can deliver personalised experiences based on understanding and context.
Much of this may sound like basic common sense but it's amazing how frequently companies do get this wrong. With more and more interactions happening across multiple digital channels the situation is becoming increasingly complicated and existing customer teams are often overwhelmed by the number and frequency of interactions. So, rather than focusing on delighting customers every time, first look at respecting their time and delivering what they are looking for seamlessly, if you want to strengthen engagement and build loyalty.
Categories:
Contact Center, Customer Engagement, Customer Experience, Customer Service, Forrester, Multichannel Customer Service
You might also be interested in these posts: