Delivering omnichannel success in an ever changing world
Published on:
April 15, 2013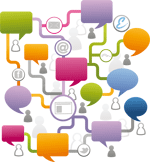 Customers are demanding better service through more and more channels. And they have no patience for roadblocks on the customer journey. According to Forrester 34% give up or go to a competitor after an unsuccessful website experience. Those that do persist tend to switch to your most expensive contact channels – nearly half (49%) of those that couldn't find information online either called or emailed the organisation concerned.
So you'll either lose the sale or will add unnecessarily to your costs by providing a substandard customer experience. In today's fiercely competitive market this puts your very business survival at risk. But with a growing number of channels to manage and customers that want to be able to switch seamlessly between them, how do you deliver a consistent, omnichannel experience to everyone?
Based on its work with 400 leading organisations including AirAsia, TUI, Dixons, Ageas and the NHS Business Services Authority, Eptica has created a six stage approach to create a seamless omnichannel customer experience:
1. Install a single omnichannel workflow that brings all interactions together and automatically routes them to the best agent or department to answer the query. This also delivers a single view of the customer and improves efficiency.
2. Create a seamless customer journey by providing the right information at key points on all channels (phone, web, email, chat, social and mobile) to help move browsers to buyers. Make it simple for customers to move channels without having to repeat their query or re-enter information.
3. Deploy a centralised multichannel knowledgebase to deliver fast, accurate and consistent answers on every channel. Sharing knowledge from a single source not only improves the experience for customers, but increases efficiency and reduces management time and cost.
4. Increase adoption of Self-service by deploying it on your website, via mobile apps and on social media sites such as Facebook. By helping customers find answers to their own questions they don't need to switch to other channels – reducing inbound emails by half and calls by 25% at least.
5. Analyse customer interactions across every channel. Ensure you track and trace the visibility of every interaction and measure agent performance in real time. Use technologies such as sentiment analysis to understand what your customers think of you without forcing them to fill in surveys – and use this information to improve your products and services.
6. Listen and respond to social media enquiries. As well as monitoring and replying quickly to relevant messages on Twitter and Facebook use sentiment analysis to gain a real time understanding of customer mood and how they view your brand.
To give more insight on how to deliver omnichannel success Eptica is running a webinar on 16th April 2013 at 9.30am BST. Aimed at managers in every industry you can register for the free event here.
Categories:
Contact Center, Customer Experience, Customer Service, Agent Knowledge Base, Mobile, Multichannel Customer Service, Self-service
You might also be interested in these posts: