Domestic & General's customer service success recognised at prestigious awards
Published on:
March 29, 2012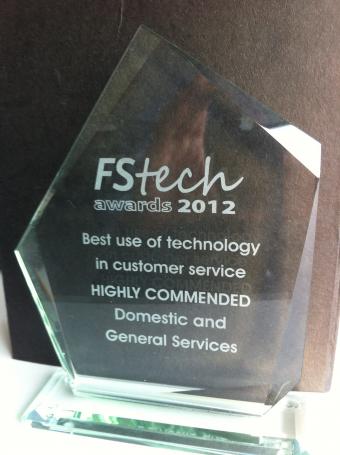 Whatever industry you are in, customer service revolves around providing fast, accurate answers to customer queries. However ensuring that your agents have the up to date information needed to deliver these answers can be difficult, as it is scattered across multiple IT systems, stored in physical folders or even kept in agents' heads. The key to delivering excellent customer service is to centralise this knowledge and make it easy to access by agents dealing with customer queries.
Eptica customer Domestic & General provides the perfect example of how knowledge management is working in practice. The UK's leading warranty specialist, Domestic & General has implemented Fido, a centralised knowledge management system built on Eptica's software across its two UK contact centres.
Demonstrating the success of Fido, Domestic & General has just been highly commended in the Best Use of Technology in Customer Service category at the 2012 Financial Sector Technology (FST) Awards.
Using Fido agents access up to the minute, accurate answers by typing questions into the web-based system, which provides consistent and fast responses to every enquiry. The system now receiving an average of 50,000 hits per month, and each agent, in Domestic & General's customer service department, using the system on average 300 times each month.
And the customer service benefits have been equally impressive. Since Fido went live in 2011, customer call times have been reduced by nearly a quarter (22%) and operational costs have been lowered by £158,000. Furthermore, first contact resolution rates have increased, hold times halved and the time taken to train new agents has decreased by 20%.
Congratulations to the Domestic & General team on this great accolade, which continues Eptica customer success at the awards with insurance company Ageas having picked up two trophies at the 2011 ceremony.
Categories:
Contact Center, Customer Service, Finance, Agent Knowledge Base
You might also be interested in these posts: