Don't neglect the positive side of customer service
Published on:
October 09, 2015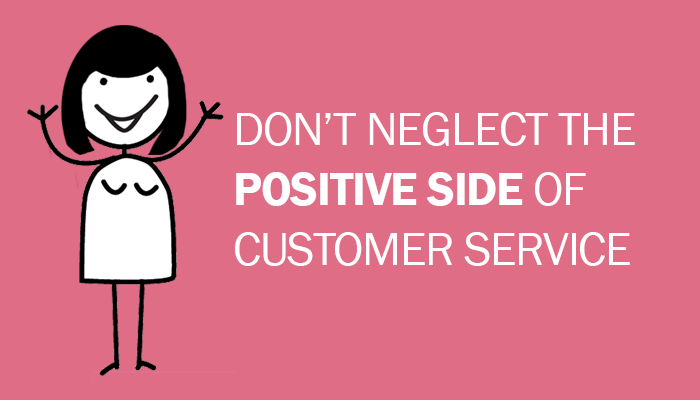 We're now coming to the end of National Customer Service Week, which highlights the vital importance of customer service to businesses and puts the spotlight on the great work done by those in this sector. It also looks at sharing best practice to further improve standards, ultimately benefiting consumers everywhere.
On that note, let us focus on the positive side of customer service. After all, it is very easy for people to equate customer service solely with complaints, whereas a growing number of interactions are from consumers sharing their thanks or praising a company, particularly on social media.
In today's social media-driven economy, consumers increasingly want to give feedback on how they have been treated, letting friends, family and the wider world know their thoughts on brands and the service they have received. This can be through review sites, Facebook, Twitter or even just word of mouth. This can be positive or negative. According to the American Express Global Customer Service Barometer, 93% of American consumers talk about positive customer service experiences.
This is a welcome development. At a time when social media and ever more demanding consumers shift the balance of power away from brands and towards their customers, positive endorsements provide a strong message to potential purchasers. So, how can companies make the most of their fans, and ensure that they turn positive impressions into brand advocates?
Many companies simply measure satisfaction using metrics such as Net Promoter Score, but this only goes so far. The opportunity is there to turn customers into ambassadors through official programs that recognize happy consumers and reward them for their feedback. This could be done by creating an online community or an ambassador program, which reinforces the relationship and increases loyalty.
Here are five ways to ensure such programs deliver value:
1. Reach out to your happy customers
If a consumer is already discussing your service in glowing terms, make the person feel even more special by contacting him or her and asking if he or she would like to join your ambassador program. Equally, you can use technology such as linguistics to analyze incoming interactions to your contact center, enabling you to pinpoint consumers that have sent positive emails, tweets or Facebook messages. You can then respond and invite them to join your scheme. Similarly, approach those that rank you highly in Voice of the Customer research. Obviously, not everyone will want to join but even being asked can increase customer happiness.
2. Make the program worthwhile
Simply telling customers that they are special may generate a bit of goodwill, but it will wear off quickly. Ambassador programs need to have something in it for the customer. This doesn't have to be financial, though discounts or special offers can work. In many cases customers want to be part of the buzz around your brand, so offer them the chance of direct access to your team, listen to their thoughts and create channels of communication. This could be through a newsletter, a Facebook group or a full online community.
3. Invest your time for the long-term
Ambassador programs can be as complex or simple as you choose to make them. However, it is important that you dedicate sufficient time and resources to ensure that they continue to meet customer expectations and don't simply start well before being forgotten as the team moves onto other projects. It is important to have people assigned to run the program whose objective is to keep tabs on what customers want.
4. Use advocates to help other customers
Modern life is complex, meaning that in many cases it is impossible to test for every combination of circumstances. For example, take a consumer with a new TV. Previously, they would simply plug the aerial into the back, switch it on and sit back. But now, in an era of internet-connected TVs, getting the most out of your product could involve making it work with your broadband provider, linking it to your DVD player or home cinema system and then downloading or streaming content from yet another company. No wonder that many companies struggle to replicate every scenario in their manuals. However, by providing an online forum where people can share their queries and other customers can provide answers, companies can help solve problems faster. To encourage this, consider rewarding the most helpful advocates, either with discounts or even just through non-monetary rewards such as rankings on your community.
5. Listen to your customers
Advocates can do a lot more than simply sing your praises on social media. They are also likely to be emotionally involved with your brand and may well have ideas that could positively help your business grow. Offer them the opportunity to give their thoughts and even to co-create products to cement the relationship and drive potential new revenues.
Positive customer responses are easily lost in the thousands of interactions that companies receive, and the feedback may just be forwarded around the contact center to improve morale. However, you have a great opportunity to use the positive feedback to build a customer advocate program that will help your business grow.
Categories:
Contact Center, Customer Engagement, Customer Experience, Customer Service, Linguistics, Marketing, Multichannel Customer Service, Social Media
You might also be interested in these posts: