Eptica Awards celebrate customer service success
Published on:
October 18, 2011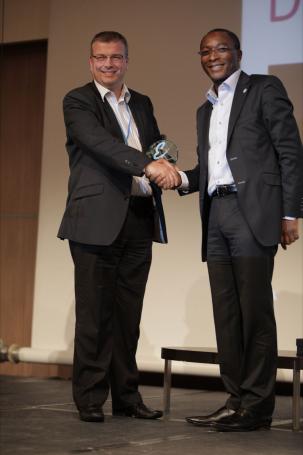 Eptica's International Customer Service Summit highlighted customer service excellence through the second annual Eptica Customer Service Innovation awards.
Dixons, AirAsia and Ageas were amongst the companies to receive awards for service transformation based around Eptica's multichannel customer interaction management software. Winners achieved outstanding results in the categories of multichannel integration, knowledge management, self-service, social media experience, integration and innovation. Asia's leading low cost airline, AirAsia, was awarded Best Social Media experience and now manages over one million customer service enquiries per month through its website, Facebook and mobile channels using Eptica's multichannel Self-service portal.
The winners, spread across five categories, were:
Best Multichannel Integration Project
· Ageas Insurance Solutions – integration of web, email, telephone, fax, letter and SMS into a single platform, resulting in a 50% reduction in customer handling time and a 23% reduction in inbound calls.
· Rue du Commerce – combining email management, web self-service and Facebook customer service at France's leading technology ecommerce site.
· FIA-NET– delivering customer service across four channels by secure online payments subsidiary of Crédit Agricole.
Best Knowledge Management/Self-service Project
· Knowhow/Dixons Group – underpinning the launch and operation of Knowhow, Dixons Group's new delivery, installation and support service by capturing and sharing knowledge content across multiple channels. This is a central part of the company's strategy to be known for its service and knowledge leadership alongside its strength and reach in providing electronics and electrical products across the UK.
· Meetic – providing email and web customer service for millions of customers of French dating site, recently bought by Match.com.
Social Media Experience Award
· AirAsia – achieving a 40% reduction in contact centre costs for fast-growing airline by integrating social media into customer service strategy. Its 1.9 million followers can now ask questions directly from its Facebook page, as well as through the web and mobile channels using its integrated, multi-channel self-service platform.
· Vertbaudet – the first Eptica customer to implement Facebook portal for customer service, adding to the retailer's existing email management channel.
Integration Award
· Arval/BNP Paribas – integration of Eptica with Salesforce.com, enabling it to be used by hundreds of managers at car leasing company.
Innovation Award
· La Redoute – awarded to the French clothing retailer for delivering comprehensive email and social media customer service through Eptica.
Congratulations not just to the nine winners, but to all 350 of Eptica's customers across the world who are leading the way when it comes to customer service.
Categories:
Contact Center, Customer Service, E-commerce, Email Management, Finance, Multichannel Customer Service, Retail, Travel, Self-service
You might also be interested in these posts: