Eptica wins Asia Pacific customer service excellence award
Published on:
June 14, 2012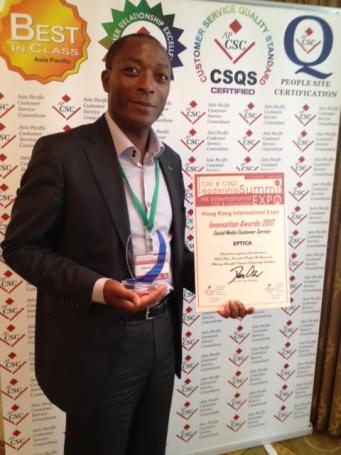 Eptica has won the Social Media Customer Service category at the prestigious Asia Pacific Customer Service Consortium (APCSC) Expo International Awards. This award was in recognition of Eptica's innovative social media customer interaction suite and its successful implementation at low cost airline AirAsia.
By deploying Eptica as a centralised customer Self-service system, AirAsia is now providing fast, consistent customer service across the web, Facebook and mobile channels, 24 hours a day. Over one million enquiries per month are now being managed through the AskAirAsia system. What is critical for consistency of answers is that all these channels share the same knowledgebase. So whether customers ask a question through the web, Facebook or mobile they receive the same answer, through the channel of their choice. This reduces the risk of separate silos of information being created and brings down cost. By using Eptica AirAsia has been able to achieve a significant reduction in contact centre costs, despite dramatically increasing user numbers.
"Social media provides a powerful new channel for delivering customer service that enables organisations to get closer to their customers," said Olivier Njamfa, President and CEO, Eptica. "However it is vital that it integrates with the overall customer service strategy, sharing information with other channels to provide a consistent and accurate experience. Winning the prestigious APCSC award is the perfect recognition of the success AirAsia has achieved - by centralising customer service knowledge and then delivering fast answers it ensures excellent and efficient service through the customer's channel of choice."
As a fast growing business, AirAsia has invested heavily in new areas such as Facebook and mobile for customer service. Its iPhone app, which uses Eptica Self-service to provide an optimised experience when customers ask service questions via their phones, has proved incredibly popular and at launch was the No 1 selling app in the iPhone App store for Malaysia, Thailand and Indonesia. AirAsia has already received multiple awards for its customer service excellence, including the Customer Lover award at the inaugural WITovation awards, organised by Singapore-based content and community platform Web In Travel (WIT).
Founded 14 years ago, the Asia Pacific Customer Service Consortium aims to promote service quality and customer relationship excellence across Asia Pacific and to recognise and reward companies, business units, teams, and individuals that have contributed to the success of both their customers and the organisations that they serve.
APCSC jointly offers the most recognised global certifications for CRM, Customer Service, Contact Centre, Support Services with global education partners and international membership organisations to set standards world-wide. The APCSC Expo Innovation Customer Relationship Excellence (CRE) Awards are one of APCSC's key activities, recognising and rewarding industry leaders and professionals for their customer centric service innovation. Winners from across Asia Pacific were announced at a ceremony in Hong Kong on 14 June 2012 that was held as part of the CRE & CPQS Asia Pacific Leadership Summit. Eptica CEO Olivier Njamfa also spoke at the Summit on how companies can successfully manage multichannel customer service in the increasingly complex and 'always on' world.
As well as AirAsia's success, the Social Media Customer Service award recognises Eptica's innovative technology, including its Social Media Interaction Management suite. This enables companies to listen, respond and interact successfully with customers and prospects on social media. With complete end-to-end conversation tracking and interaction management it allows organisations to proactively identify customer opportunities, quickly act to solve customer complaints before they become serious issues and ensure social media engagement is a success
.
Categories:
Contact Center, Customer Service, Mobile, Multichannel Customer Service, TravelSelf-service
You might also be interested in these posts: