The evolution of contact center performance
Published on:
September 28, 2015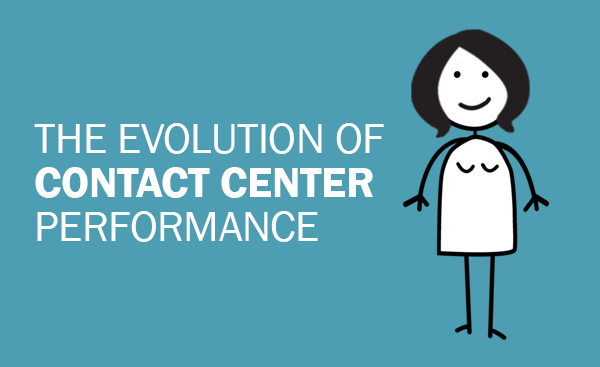 In the past contact centers were often viewed as a cost center, meaning that the primary goal of companies was to run them as efficiently as possible while still responding to customers competently. As companies are becoming more customer-centric, this is approach is changing. Now businesses realize that they need to use the customer experience as a differentiating factor if they want to succeed in winning and retaining customers.
Confirming this trend, Call Center IQ, recently launched a report, The Evolution of Contact Center Performance, which examines how contact centers are evolving, both in terms of their overall goals and how they achieve them. It is based on an extensive survey of customer experience, contact center, operations, information technology, marketing and business development professionals.
The report breaks down into four main sections:
1 What do contact centers look like currently?
While contact centers as a whole today are viewed as the link between the brand and the customer, the report highlights many areas of difference. For example, when asked who handles day to day management of the contact center, 41% said operations, while 19% said C-level executives and 14% said the custom experience team. For big picture strategy, 56% said the C-level took responsibility, while 15% said operations and 10% customer experience.
Another area of difference is the ownership of the contact center:
65% of respondents confirmed that no part of their contact center operation is outsourced.
18% say they outsource some operations.
6% confirm they rely on an external provider for most contact center operations.
2 What are their objectives – and how are they measured?
Obviously, if you want to understand the contact centers of today, you need to start by examining the types of objectives they work towards. Respondents to the survey ranked the top six objectives in the following order, with the most important first.
Improve customer satisfaction
Improve customer loyalty
Improve brand reputation
Improve customer advocacy
Decrease costs
Gain customer insights
How do they measure this? As performance occurs at a very granular level, contact centers rely on a wide variety of performance metrics which are tied to high level business objectives and strategies. Below are the main types of performance metric, as rated by the survey respondents. Again, the most important comes first:
Quality metrics (accuracy, adherence to procedure, error/rework rate, etc)
Customer metrics (customer satisfaction, Net Promoter Score, customer loyalty, repeat rate, etc)
Efficiency metrics (average handle time,service level, average speed of answer, etc)
Resolution metrics (first call resolution,call back rate, transfer rate, etc)
Accessibility metrics (blockage, uptime, hours of operation, self-service availability, abandon rate, etc)
3 How do contact centers work in practice?
After setting objectives and metrics, how do companies look to achieve them? What operational elements are required to drive customer satisfaction and customer loyalty? What do high-quality, customer-centric interactions entail?
The report goes into great detail analyzing how respondents rated a variety of important factors that are key to managing performance. These included:
The most valuable elements of the contact center
The factors that impact the quality of interactions
The most important attributes of agents
The ways in which supervisor/manager performance is measured
The quality of service delivered across different channels
The power and role of technology
For example, agent knowledge was rated as having the highest impact on the quality of customer interactions, followed by the accuracy of the information given. What's more, most respondents believe agent knowledge is the second-most valuable component of their contact centers (when asked to rate existing contact center elements on a 0-5 scale). Only on-site availability of agents and supervisors scored more favorably.
4 How successful are today's contact centers?
When asked to rate how well they are achieving their current objectives, only 13% of the sample declared their contact centers "extremely successful." Clearly the majority understand that customer service excellence improvement is a continuous process, and they are realistic about their current progress.
This is shown by how they rate themselves against the elements they pinpointed as most important. For example, respondents rated the importance of 'knowledgeable agents' at 4.52, but current success was rated at 3.70. Success in achieving First Contact Resolution was scored at 3.53 despite its importance rating of 4.10.
In general, most respondents agreed that contact centers are faring "quite well". However, given the importance of the customer experience to business success, this level of performance needs to improve.
On the positive side, contact centers are not failing, but they are not "optimally succeeding" says the report. There are a number of bottlenecks, one of the biggest of which is the quality of technology. Those surveyed wanted technology with these five key attributes:
Integration with existing systems
Usability for agents
Low upfront costs
Scalability
Low maintenance costs
However, the technology that the respondents are actually using today, is not rated as displaying absolute excellence in any of these areas. Respondents listed its greatest value as being the ability to integrate with existing processes.
Other notable bottlenecks listed by those surveyed included budget limitations, availability of personnel, lack of technology integration and inability to handle all issues in all channels.
Next steps for contact centers
Clearly, more work is needed if contact centers are going to deliver on their objectives. Three important takeaways are highlighted in the Call Center IQ report:
1 The need to balance efficiency and customer experience
Just because contact centers are now more focused on serving the customer, it does not mean they should ignore previous efficiency goals. Even customers value efficiency when it makes it easier and faster for them to get their questions answered.
2 Focus on agents and their environment
Since agent performance is vital, improvements in this area are key to improving contact center success. It's not easy or simple. In addition to recruitment and training you need to focus on a wide range of factors, from the systems they access to help customers, to the manner in which their work is scheduled and positioned with the company.
3 Embrace continuous change
At a time when customers are becoming more and more demanding, change is a constant. If a business cannot acknowledge the need to revamp all parts of its contact center, it will block improvement. In the contact center success is not always about simple, painless initiatives, but also likely to involve long-term, disruptive change. Only those organizations that understand this will continue to evolve to meet customer needs.
Categories:
Agent Knowledge Base, Contact Center, Customer Engagement, Customer Experience, Customer Service, Knowledge Management, Multichannel Customer Service, Self-service
You might also be interested in these posts: