Five projects to deliver Customer Engagement
Published on:
June 25, 2014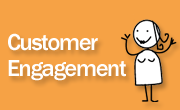 Engaging with customers is one of the key challenges facing businesses today. Building and maintaining strong relationships across multiple devices and channels requires a combination of reactive and proactive processes in order to meet the needs of demanding customers.
Gartner has talked extensively about the Customer Engagement Center (CEC), the replacement for the Contact Centre that it believes should underpin customer engagement. Its recent Magic Quadrant, which includes Eptica, provides a useful overview of the technologies and functionality needed in the CEC. Driven by the growth of CECs, Gartner sees the Customer Relationship Management (CRM) market expanding, with a 13.7% increase in spending on IT last year.
In a recent blog post, Gartner Analyst Michael Maoz outlined 5 key projects to work on now to drive engagement, without necessarily committing to a new choice of IT architecture. The idea is that these deliver value and help improve the customer experience – without breaking the bank. The five are:
Mobile – delivering a tailored experience and support to consumers using tablets and smartphones (I would add the Internet of Things here too).
Empowering agents with the right context. Providing visibility beyond the interaction looking at emotion/sentiment analysis, customer value, past experience and likely reason for contact. This can be used to personalise responses and workflows, as well as setting priorities.
Arming agents with the right information, providing consistent knowledge that can answer customer questions, whatever channel they use to make contact.
Improved web experience for site visitors, including better search functionality, web chat and video answers amongst other features.
Ability for agents to listen to customers on social media and engage with them more easily.
All of these are critical projects, and have a real impact on the customer experience. They also link directly to customer and organisational needs, making building a business case a lot easier than pitching a 'big bang' transformation project of the entire CEC architecture.
The good news, in my experience, is that you can build from each of these to produce more cohesive, efficient engagement. For example, a centralised knowledgebase that spans all channels will improve service levels on the web, mobile devices, social media, email and the phone. Technology such as linguistics will analyse incoming digital interactions and provide a guide to customer sentiment, as well as enabling the automation of routine enquiries by automatically suggesting relevant responses. None of these projects need to take years to implement – cloud-based systems (another growth area for Gartner), mean that deployment can be fast and flexible, yet able to expand to meet changing needs.
For those companies looking to improve customer engagement over the next 12 months, now is the time to review Gartner's list and see if there are opportunities to benefit from these key projects.
Categories:
Contact Center, Customer Engagement, Customer Experience, Gartner, Agent Knowledge Base, Linguistics, Mobile, Multichannel Customer Service, Chat, Self-service
You might also be interested in these posts: