Flying high? The state of customer experience in the airline industry
Published on:
September 19, 2014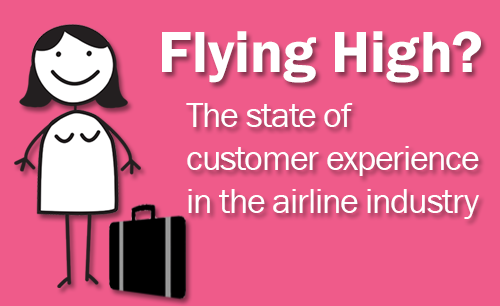 Like many industries, the internet has radically changed the airline industry. It has altered the role of travel agents and led to an elimination of analogue, paper-based processes as it has moved to a digital-led model. At the same time competition has increased exponentially, with newer airlines with lower cost-bases further disrupting the sector.
Avoiding the social media #fail
Consequently, the customer experience is increasingly vital. The rise of social media means that customers will immediately share poor experiences – even if (like weather delays) they are outside the airline's control. The YouTube video and campaign, started by musician Dave Carroll after his guitar was damaged during transit by United Airlines wiped 10% off its share price, while other airlines have come under fire for tardy responses to social media complaints.
The rise of mobile devices is also changing the overall travel experience with 47% of UK travellers browsing the web using mobile devices during their break, and 34% posting updates on social networks while on holiday.
Improving the airline customer experience To meet these challenges, many airlines are looking to adopt customer experience management (CEM). This aims to drive loyalty and satisfaction by achieving a complete understanding of the customer. Using this they can then be offered customised services and relevant communication at all touch points in real-time through their journey. The vision depends on two elements:
Recognising and understanding individual customers throughout the process, from buying a ticket onwards.
The ability to gather, share and act on this information at every touch point, in real-time.
Given the scale and complexity of airline operations, this is potentially difficult to achieve. According to specialist research organisation Travel Tech Consulting it will take an estimated 5 to 7 years for the first large scale, successful customer experience management implementations. It points to six critical factors which will ensure the success of CEM:
The content provided to customers, which needs to be relevant and appropriate
Context: information must be relevant to a situation, for instance communicating a gate change via SMS rather than email.
Location: being able to precisely locate travellers (such a via beacons or Bluetooth) within airports.
Timeliness: information needs to be real-time so passengers can alter journey plans if necessary.
Control: passengers must feel that they're in control and see the benefits if they share personal information (such as their location) with airlines.
Personalisation: airlines must understand the customer to a sufficient degree that they can personalise every experience. For example, they can differentiate when a regular business traveller is on a family trip.
Getting the basics right
So how are airlines performing today? The Eptica Multichannel Customer Experience Study researched how they respond on channels such as email, Twitter, chat and web self-service. As part of the study of 100 organisations, the research looked at five airlines, and found a mixed picture:
Email performance was poor:

Just 60% (3 out of 5) airlines let non-customers email them – though one said that if the answer could be found online they wouldn't respond to the email.
One airline gave 28 days as the deadline for replying via email – which it then failed to meet.
Only 40% of airlines answered a question emailed to them. The fastest responded in a hour, but failed to provide a successful answer, while the other took 121 hours to provide a more comprehensive response.

Twitter is patchy

60% of airlines are on Twitter, and 50% successfully answered a question tweeted to them
The fastest responded within just 8 minutes. However, another took a day to answer and asked to be emailed – somewhat defeating the purpose of interacting via social media channel

No airline surveyed offered web chat, missing out on its benefits of speed, consistency and real-time interaction.
The combination of increased competition, ubiquitous mobile devices and the rise of social media is driving customer experience up the agenda for airlines. However, as the Eptica Multichannel Customer Experience Study has found, if the CEM vision is ever to be realised, airlines need to first focus on the basics, if they are gain trust and retain passenger loyalty.
Categories:
Customer Engagement, Customer Experience, Customer Service, Multichannel Customer Service, Travel
You might also be interested in these posts: