L'Occitane tops prestigious index for customer service
Published on:
February 19, 2014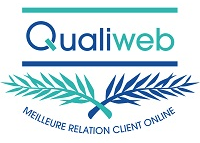 Eptica customer L'Occitane has been recognised for the strength of its customer service, ranking first in the prominent 2014 Qualiweb/Stratégies index for email and fourth in the category for social media. It is the only brand to feature in both categories, demonstrating the strength of its multichannel service and consistency of its approach.
Running since 1998 and organised by independent market research institute, the Cocedal Conseil, the Qualiweb research works by sending seven 'mystery shopper' emails to 350 different companies within 18 sectors. Responses are marked against 100 different criteria, including time, relevance and degree of personalisation. A total percentage score is then calculated, with L'Occitane scoring 92.58%. For the social media category three Facebook posts (two private, one public) were sent to 250 companies who had their own Facebook page.
Across Europe and the United States, L'Occitane is using Eptica's multi-lingual customer management interaction software to manage incoming emails, web self-service and telephone contacts, as well as to power L'Occitane's new web chat service in Europe. Every month it answers 2,500 individual emails through Eptica, delivering responses in less than 24 hours.
Through a centralised knowledgebase L'Occitane customers now receive fast, consistent answers to their questions, whatever the channel or language they use, improving the customer experience and aiding sales conversions. The deployment will be extended to Asia in 2014.
"To provide a 360 degree view of the customer, we implemented Eptica's software to enable us to manage all channels from the same interface in the interests of efficiency and personalisation," said Anne-Sophie Pouyau, International and European customer service manager, L'Occitane.
The deployment of Eptica is part of a larger international project to overhaul L'Occitane's customer relationship management systems. Through this L'Occitane is aiming to offer its millions of global customers a personalised, cross-channel experience however they interact with the brand. L'Occitane has 2,300 shops in 90 countries.
Seven other Eptica customers were also included in the Qualiweb/Stratégies 2014 index, including retailers Decathlon and La Redoute and banks ING Direct and Société Générale. The strong showing of Eptica customers in the Qualiweb index and in awards across the globe demonstrates the importance of a multichannel approach to service.
Through Eptica consumers receive a fast, consistent and personalised response to their question, on their channel of choice, reinforcing loyalty, increasing sales and improving efficiency.
Categories:
Contact Center, Customer Experience, Customer Service, Email Management, Agent Knowledge Base, Retail
You might also be interested in these posts: