Looking back – key trends from the Eptica blog in 2014
Published on:
January 14, 2015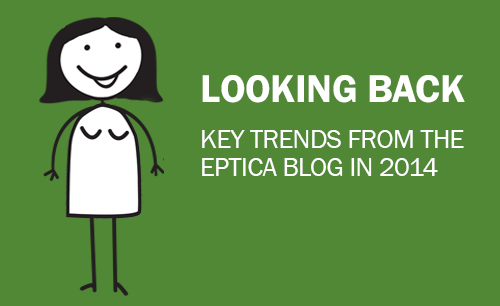 2014 was an extremely busy year in the customer experience market. The combination of more demanding consumers, new contact channels and increased regulation drove innovation and increased investment in customer service departments as organisations aimed to differentiate themselves from competitors and boost revenues.
This increased focus translated into record numbers of visitors to the Eptica blog – thank you to everyone who read our posts, commented and shared through social media such as Twitter, Facebook and LinkedIn.
While 2015 is already in full swing, we wanted to take a quick look back on the year, picking out six of our most popular posts and sharing them for those that might have missed them. What is most interesting is the sheer variety of the topics they cover – everything from research and customer successes to analyst predictions, showing the range of areas that customer experience covers.
1. 5 impacts that Amazon has had on customer experience
2004 saw the 20th anniversary of the founding of Amazon. This post looked at how the company's innovation has changed not just the ecommerce market, and also impacted what customers expect from businesses in every sector. Given the company's commitment to introducing new services, from streaming video to branded smartphones, who knows what the next 20 years will bring?
2. What's the state of the UK customer experience? 8 Key Findings
Every year at Eptica we survey 100 of the UK's top companies across ten sectors, to see how they successful they are at delivering customer experience. In 2014 we found that many were struggling to deal with the shift in power towards consumers, and the explosion in digital interactions through channels such as social media, the web and email. The Study uncovered huge discrepancies in performance across sectors and channels – and between the best and worst companies. We're currently working on the 2015 report – watch this space to see what improvements have been made over the last 12 months.
3. Don't forget the importance of email in customer service
Another 2014 anniversary was the 32nd birthday of email. With the advent of social media and chat, as well as mobile devices, it is tempting to write email off as a customer service channel – but that would be far from the truth. Nearly 115 billion emails are sent every day, with mobile devices causing this to grow as consumers can send messages instantly whenever they have a good or bad experience. Customers like the flexibility and audit trail that email provides – and it is up to companies to ensure they can deliver the fast, consistent and comprehensive responses that they are looking for through the channel.
4. Customer Service - at the touch of a button
From one of the older customer service channels, to one of the newest – the Internet of Things. Identified as one of the key drivers behind growing CRM importance by Gartner, it promises to provide new opportunities (and challenges) to businesses. A great example of its use is in France, where electrical chain Darty launched a connected 'panic button' for subscribers to its support services. Simply press the 7cm square button and an agent will call back in less than a minute, at any time day or night. 2015 is sure to see further developments as the Internet of Things gathers traction.
5. The growth of CRM and CX – 3 trends according to Gartner
Last year saw major growth in the CRM market, with spending increasing by 13.7%, according to figures from Gartner. This was driven by the evolution of customer experience as companies moved from traditional contact centres to multichannel, digital Customer Engagement Centers (CECs). Eptica is at the heart of this shift, and featured in the latest Gartner Magic Quadrant for CECs, which was released in May 2014.
6. Vivastreet wins prestigious award
Demonstrating the power of good customer service, Eptica customer Vivastreet won its category in the prestigious Voted Customer Service of the Year Award. Based on mystery shoppers who test each company's customer service channels, the results therefore exactly reflect the experience that actual customers receive, making them incredibly valuable. Vivastreet provides classified adverts ranging from the buying and selling of services, properties, cars, events, pets and much more, all in their local area. It operates across Europe, Latin America, North America and North Africa – in total 14 countries across the world, with Eptica underpinning its entire operations.
Categories:
Contact Center, CRM, Customer Engagement, Customer Experience, Customer Service, E-commerce, Email Management, Forrester, Gartner, Linguistics, Marketing, Multichannel Customer Service, Retail, Chat, Self-service
You might also be interested in these posts: