Making it easy for customers
Published on:
February 20, 2015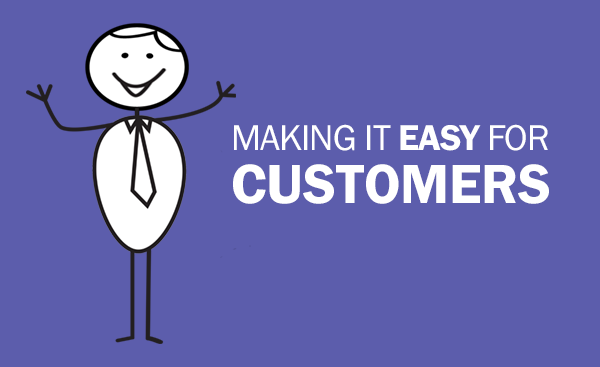 In today's time-poor world, consumers increasingly pick who they buy from, and what channel they use, based on ease of use. This can be seen in the growth of local shopping at the expense of out of town supermarkets, as well as the rise of techniques such as Click and Collect that make it simple to pick up online purchases at a convenient location.
This trend has been recognized by the growth of a new metric – Customer Effort Score (CES). Originally presented in an article in the Harvard Business Review, CES is based on answers to a single question – "How much effort did you personally have to put forth to handle your request?" Respondents then score on a scale of 1 (very low effort) up to 5 (very high effort).
With customers increasingly valuing their time CES is gaining traction, with more and more companies adopting it. By focusing on the ease of doing business with your organization, across specific transactions and channels, companies can quickly see where there are problems, and then take action to fix them. This could be as basic as changing an inbound IVR menu or updating your website to ensure that the most used information is visible to customers.
As well as providing actionable information at a detailed level, there is a strong correlation between loyalty and high CES scores. A study of 75,000 customers by the authors of CES found that 94% of those who put in less effort to complete a transaction said they intended to buy from that company again. Separate research by McKinsey across 44 industries found that those companies that focused on making the experience low effort for consumers saw revenue growth of between 10-15% and a 20% increase in customer satisfaction.
Why you need CES and NPS
What CES doesn't do is replace existing metrics, such as Net Promoter Score (NPS). By asking whether customers would recommend a company to family and friends, NPS provides an overall measure of satisfaction with product, price and service. In contrast CES delivers detailed feedback on particular parts of the customer journey. It isn't inconceivable that a consumer will be satisfied with service, and happy to recommend a company to others, even if the process of interacting was complex and time-consuming. This is particularly true in regulated industries where specific actions have to be taken to ensure compliance with legal requirements.
What companies need to do is to look at how they can make it easy to measure CES, NPS and other customer engagement metrics, at the point where interactions occur. All of these should feed into your Voice of the Customer (VoC) programs, sharing information between customer service teams and marketing to provide a real-time picture of what customers are saying and their opinions on your company, product and processes. Part of this should be analysis of the emotional side of the transaction, meaning that companies need to invest in linguistics that can quickly see if consumers are upset, happy or angry when dealing with their organization.
For many businesses Customer Effort Score is a new metric, but can prove extremely useful in finding and fixing issues that make your company difficult to do business with. Organizations therefore need to look at incorporating it into their operations, alongside other VoC metrics, if they want to ensure they are delivering a seamless experience to customers, across every channel.
Categories:
Customer Engagement, Customer Experience, Customer Service, Marketing, Linguistics
You might also be interested in these posts: